You may hate stevia because it has that bitter aftertaste, but there's something much more sinister going on with this leaf extract.
Did you know that stevia is mutagenic? Meaning it mutates your DNA?
The plant itself is not mutagenic, but bacteria in your gut flora convert it to a "highly mutagenic" substance; steviol.
Now this has been known since 1985, as seen in rodents. Ironically, the food industry never conducted a human clinical trial to check this. Their defense was that just because it happens in rats, that doesn't mean it necessarily happens in humans (and we don't want to check).
It wasn't until 2016 when a small human study of just 10 men was conducted and published by the World Health Organization.
The results?
They confirmed that indeed, human gut flora is doing that same thing as rat gut flora – creating the mutagenic byproduct during digestion. No surprise really, given that we're both mammals. A direct quote  from it (1):
"Peak concentrations of steviol were similar in rats and humans, while steviol glucuronide concentrations were significantly higher in humans."
This is why the equivalent of just 9 sugar packets per day of stevia is allowed by the FDA. For comparison, artificial sweeteners like aspartame are 75 and sucralose are 23 per day. Yes, the bad fake stuff is actually safer than stevia.
Hmm… probably time to contemplate a new protein supplement that uses something else.
Here are 3 that we personally use ourselves. Not one of them is the top or number one per se, as they each have their advantages.
1. Aloha
We've been buying Aloha for probably 4 years now and consume it on average, 5x per week. Obviously it must be pretty good for that, right?
If you want a plant-based protein powder without stevia or pea protein only, Aloha is a top choice. It contains nothing artificial, as it's USDA certified organic. The protein is a blend of brown rice, pea, and hemp. Because it's not all beans/legumes (peas) it's very easy to digest. We never get gas or bloating from it.
Each serving is 120 calories and contains 18g of protein. Aloha powders are sweetened with monk fruit. There is some sugar too but it's miniscule; 3g and it come from coconut sugar. Since there is some sugar, Aloha does taste the best. The texture is also very nice, especially when mixed with almond butter.
Among the flavors, our preference is vanilla. We buy it on Amazon's Subscribe & Save program. If you're a big chocolate fan, try that flavor.
2. Nuzest
Nuzest is a vegan brand out of Australia that is 100% pea protein. That said, they use European-grown golden peas which are processed in Belgium. This variation seems to be a lot easier to digest than a comparable serving size of Vega (which is also pea-based).
They don't sweeten with stevia, sucralose, or artificial sweeteners. Nor do they use monk fruit.
So how do they make it sweet? Using thamatin, which is a African flowering plant that is arguably better tasting than monk fruit. The reason it's not more commonly used in food is (a) it's very expensive, and (b) there's not a large annual crop [yet] which prevents the biggest food companies from incorporating it.
With a 90 calorie serving, you get 20g of protein and it's truly sugar-free. This makes it ideal for diabetics and those who simply want to avoid added sugar when possible. It's super creamy and we often just mix it with water and nothing else.
Out of the flavors, our favorite is Coffee, Coconut, & MCT.
3. NutriBiotic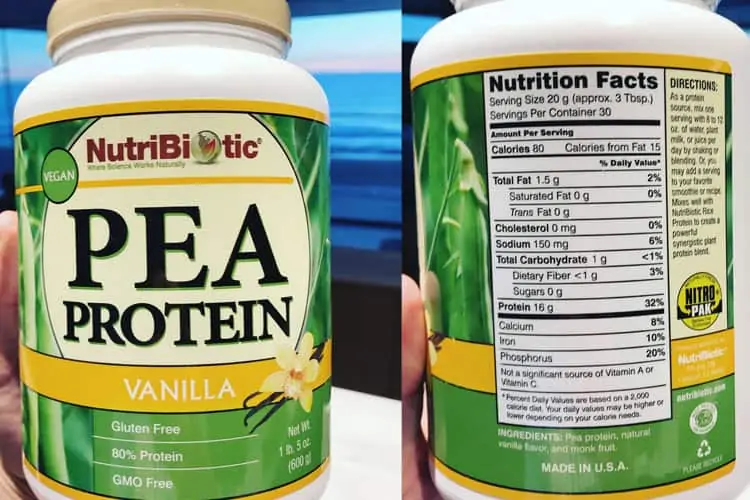 This is probably the smallest brand among these three, as it's harder to find in-store from our experience. But don't let that deter you. If you want a basic no-frills protein powder that's vegan and doesn't use stevia or intense flavors, it's an excellent choice.
They offer the pea protein in plain (unsweetened) and vanilla. The latter is sweetened with just monk fruit. There's no added sugar. In fact, the ingredients list is just 3 items – the aforementioned 2 and vanilla.
You can pick up a tub of it on Amazon.