The definition of a vegan is someone who's on a 100% plant-based diet. At least that's according to the opinions of most.
Some say it's more than just what you eat. They say it's also a lifestyle that abstains from animal-derived and tested products. That means no leather shoes, or using the remedy of honey for canker sores.
Even if you abide by the latter definition, that doesn't necessarily mean you should be paying a premium for brands which tout their vegan roots.
We spotted the brand Liken Plant deodorant at a local grocer in Hermosa Beach, CA. It comes in unscented, herbal scent, and lavender. All priced at $7 for a 2.45 oz tube.
At 2.25 oz, Tom's of Maine is a similar size for nearly half the cost. Or at least, you can find it for $3.50 to $4.00 if you shop online. At the time of this review, we see some varieties of their men's and women's deodorant in two-packs for under $8.
Tom's of Maine deodorant is vegan, according to the strictest definition. They contain no meat, dairy, eggs, or other animal-derived ingredients like honey or glycerin. They're not tested on animals.
So should you pay nearly twice the price for Earth Science Liken Plant deodorant? Even online, the pricing was $6.93 per tube as we write this review. Then again, that is actually cheap relative to some other plant-based brands.
Vegan deodorant that actually works
The repercussions of a food not tasting good are relegated to yourself. When you smell like BO, everyone around you suffers!
It's why buying effective personal hygiene products is important.
We recommend eating goji berries and powder from specific major brands. Why? Because they're all grown in China and carry serious safety and contamination concerns. Small suppliers doesn't always have the needed R&D plus supply chain oversight. Those are things that really matter with this particular food.
The same holds true with deodorant.
If they are small company with an accidentally vegan deodorant that has healthy and effective ingredients, that works too. In fact, some on this list are exactly that.
Some of the vegan manufacturers may be all-natural, but their R&D is clearly not up to par. It may not work OR be healthy for you.
There are several brands of vegan deodorant without baking soda, aluminum, paraben, and other dubious chemicals that do still work for masking body odor and having an antiperspirant benefit. They key is going for the brands with the best reviews and those that don't contain endocrine-disrupting essential oils.
Unfortunately, many of the natural deodorant brands contain tea tree and/or lavender. It's probably worse for you than BPA.
Recent research has confirmed these essential oils are potent phytoestrogens. Meaning, they mimic the biological effects of the estrogen hormone (estradiol).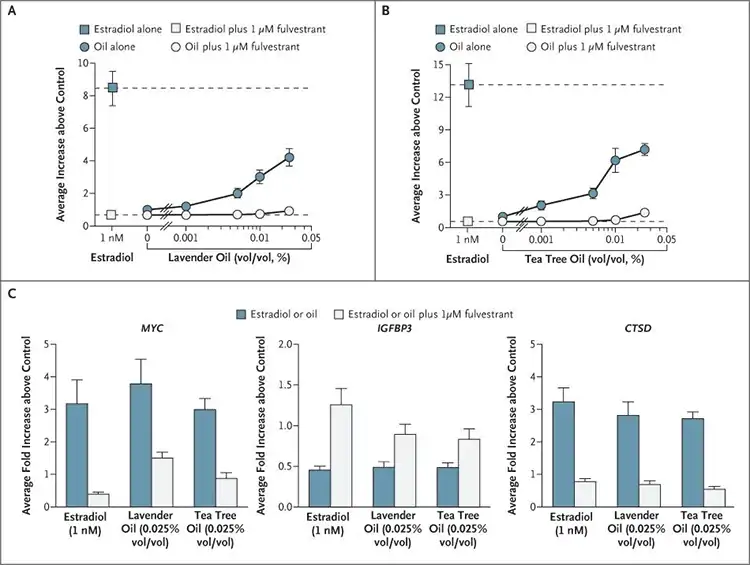 As published in the New England Journal of Medicine, you can see how even trace amounts of these oils (0.025%) bind to hormone receptors in cultured human cells quite well. (1)
In 2018, the Endocrine Society's 100th anniversary meeting presented alarming data implying that hygiene products, including tea tree and lavender deodorant, might cause gynecomastia (male breast tissue growth) in boys and male teens.
There are fewer case studies on the sides effects in girls and women, but one may presume that starting periods at an early age and increased breast cancer risk are a couple very real possibilities. (2)
80% of breast cancers are ER-positive. Meaning, their formation and growth rate is influenced by estrogen. (3)
The lesson?
Just because something is "natural" that doesn't mean it's better for you. Plant-based deodorants may be unhealthy for you, possibly even worse than the aluminum and artificial ingredients in Speed Stick, Degree, Dove, Mitchum, and other mainstream brands.
Not all of the following are marketed as being vegan, vegetarian, or cruelty-free. However, if you dig into the ingredients and what the manufacturers have to say about them, you will realize they qualify. Based on reviews and personal experiences, these are among the top choices.
Best vegan deodorant brands
1. Tom's of Maine men's deodorant
It's harder for guys to find all natural deodorants that don't smell girly. That's why we're starting the list with this one.
Tom's has a whole line which has masculine scents; Mountain Spring, Deep Forest, and North Woods scents.
The bad news is that they contain hops, which does have a rather potent phytoestrogen compound.
However if you drink beer – which is made with hops – you have a much greater source to be concerned with. So it may or may not be an issue for you. (4)
There's also propylene glycol, as with all the deodorants from Tom's. A somewhat controversial ingredient, yet the alternative chemicals that can be used in its place are arguably worse. At least it's not the very first ingredient listed, like it is for Earth Science Liken Plant deodorant (the one we saw for sale locally).
As far as the hops, the good news is that it's down on the ingredients and the Tom's men's deodorants don't contain lavender, tea tree, flax and others which are among the most concerning estrogen-mimicking sources. It's aluminum-free.
The other nice thing about Tom's is that it's affordable. You can also find it for sale at Walmart, Walgreens, and other normal stores.
Tom's is the best vegan deodorant in the UK that's relatively easy to procure. Many of the top-rated natural brands you can't find at Holland & Barrett, let alone Tesco.
On Amazon we recommend the Deep Forest scent.
2. Tom's of Maine Honeysuckle Rose women's deodorant
A disadvantage of Tom's women's deodorant is that many of them contain tea tree oil or lavender. While they do have unscented, if you want something that smells nice, then give their Honeysuckle Rose a try. It's among their highest-rated.
Tom's Honeysuckle Rose for women is an aluminum-free deodorant stick whose active ingredients for odor control are aloe leaf juice, glyceryl laurete from vegetable oils, hops, and lemongrass oil. There's also ascorbic acid (vitamin C) from citrus and organic sunflower seed oil for moisturizing. It's a good deodorant for sensitive skin.
The hops is a minor concern relative to the other types of essential oils found in most women's natural deodorants.
As with the men's version, it's not perfect but we still rank it high on the list because it's affordable and easy to find. You can get a 6-pack on Amazon for a good deal.
3. Explore Naturals deodorant
While not cheap, plant-based Explore Naturals is one of the best natural deodorants for sensitive skin if you buy the unscented version. It doesn't contain baking soda. There is small amount added to the others. For most skin, that's actually a very effective way that works for dryness and odor reduction.
It does contain beeswax. Many on vegan diets don't have a problem with honey and beeswax when it's used in skin care, lip balm, etc. If you have a problem, just choose another brand on this list.
All of Explore Naturals are designed for performance, like athletes and stressful sweating at work. None have parabens, phthalates, sulfates, and they try to use hypo-allergenic ingredients.
The main ingredients are virgin coconut oil, shea butter, sunflower seed oil, beeswax, and arrowroot powder. These are generally non-irritating to the skin for women and men. There's also jojoba, rosemary extract, vitamin E, and other good stuff.
For women, try the Vanilla Clementine. As the name implies, it has hints of clementine orange, pink grapefruit, and vanilla. It's available direct and through Amazon.
Our favorite deodorant for men is Sea Sage. It smells like bergamot, neroli, and sage. All masculine. Here's the link.
4. Organic Island deodorant with probiotics
Why probiotics for your armpits?
Because research has found that certain bacteria actually good for countering the effects of odor-causing compounds generated when sweating. (5)
Organic Island is the best no-frills vegan aluminum free deodorant. It's made with just a few ingredients and you will recognize all or most; organic coconut oil, organic corn starch, aluminum-free baking soda, candelilla wax (comes from a shrub), jojoba oil, and shelf-stable vegan probiotics. It's a brand with no propylene glycol and is fragrance free. Or at least, there aren't added fragrances. You can get it on Amazon.
5. Kopari deodorant
Even though Kopari is clearly marketed towards women, their deodorant is at least acceptable for male use. There's not really much of a scent. They say it's coconut scent but it's mild and dissipates quickly. Not "feminine" smelling, even at its strongest.
They claim the odor protection comes from the lauric acid in coconut oil, which provides natural antimicrobial benefits, along with the plant-derived triethyl citrate (from citric acid) and sage oil. It's aluminum free and has no sodium lauryl sulfate, but does contain propylene glycol.
Kopari is a vegan deodorant without baking soda, which is hard to find. You will see sodium bicarbonate on most natural brands, which is the same thing.
Its biggest drawback is price; Kopari is expensive! This is a higher-end skin care brand sold at places like Sephora and Ulta Beauty. Here's how much it is on Amazon.
6. Sky Organics natural antiperspirant
This brand is very similar to Organic Island. It uses a few basic ingredients and for the regular version, it's without added scents. That makes it work well for both women and men, plus teen boys and girls. It's a plant-based deodorant for the whole family.
The ingredients are coconut oil, carnauba wax, arrowroot powder, shea butter, and baking soda. Most are USDA certified organic. 100% natural without additives like propylene glycol, SLS, parabens, or aluminum. It's handmade in the USA (Florida). It's available on Amazon.
7. Primal Life Organics Stick Up
They claim 2-3 wipes with this stick will last 2-3x longer than other natural deodorants.
Is that true? Not sure, but the customer reviews you see are generally quite satisfied.
Instead of aluminum, they use magnesium and zinc oxide, which seems to offer some antiperspirant benefits without rash or the dangers of aluminum.
Bentonite clay and arrowroot powder are used to help balance pH. Primal Life Organics deodorant is one of the few vegan brands that doesn't use baking soda. Hemp seed oil helps soothe and moisturize skin that's sensitive.
Avoid the Black Lavender and White Lavender scents.
Despite the hype of activated charcoal there are side effects and safety concerns with it. We don't recommend the Black Rogue charcoal infused variety.
The best and safest deodorant from Primal Life will be White Coconut. Here's the link for it.