Onions, ubiquitous in kitchens across the globe, are more than just a versatile cooking ingredient. They pack an impressive array of health benefits, specifically advantageous for men.
Numerous studies have illuminated the significant health-promoting properties of onions, making them an unassuming superfood for men's health.
This article delves into the manifold benefits of onions, backed by rigorous scientific studies.
The Nutritional Powerhouse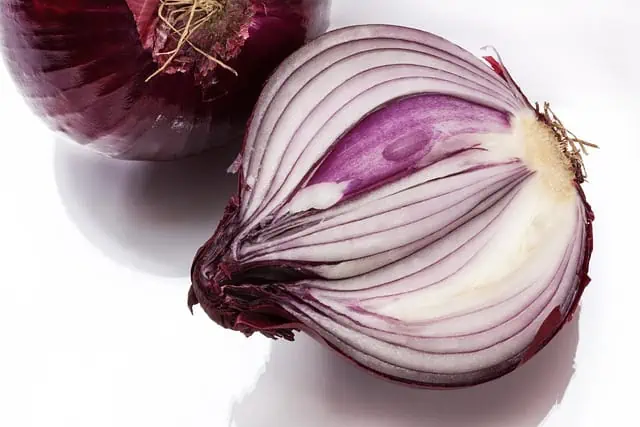 Rich in Essential Nutrients
Onions are low in calories but rich in nutrients, including vitamins, minerals, and powerful plant compounds. They are particularly high in vitamin C, a potent antioxidant that aids in tissue repair, boosts immune health, and enhances iron absorption.
Notably, vitamin C is also necessary for collagen synthesis, which helps in wound healing and maintaining healthy skin.
High in Fiber
Onions are a good source of dietary fiber. Regular intake of dietary fiber can help maintain a healthy digestive system, preventing common digestive problems such as constipation, hemorrhoids, and diverticular disease. Moreover, a fiber-rich diet can help control weight gain, a significant concern for many men.
Rich in Antioxidants
Onions are loaded with antioxidants, which are vital to combat free radicals that can damage cells and contribute to aging, inflammation, and diseases like cancer. The potent antioxidant, quercetin, found in onions, has been linked with numerous health benefits.
Rich source of Vitamin C
High fiber content
Abundant in antioxidants
Low in calories
Potent source of Quercetin
Supporting Men's Mental Health
Boosting Mood and Cognitive Function
Onions are rich in folate, a nutrient that helps in the production of serotonin, dopamine, and norepinephrine – neurotransmitters that regulate mood, sleep, and appetite. Folate deficiency has been linked to depression, and including folate-rich foods like onions in your diet can potentially boost your mood and cognitive function.
Preventing Age-related Cognitive Decline
The antioxidants in onions, especially quercetin, have been linked to brain health. These antioxidants can help reduce inflammation, lower the risks of neurodegenerative diseases like Alzheimer's and Parkinson's, and prevent age-related cognitive decline. Including onions in your diet can be a step towards ensuring brain health.
Reducing Stress and Anxiety
Research suggests that the quercetin in onions can help reduce symptoms of stress and anxiety. It interferes with the formation of cortisol, a hormone that the body produces in response to stress. Therefore, eating onions might help manage stress levels more effectively.
Enhancing Men's Sexual Health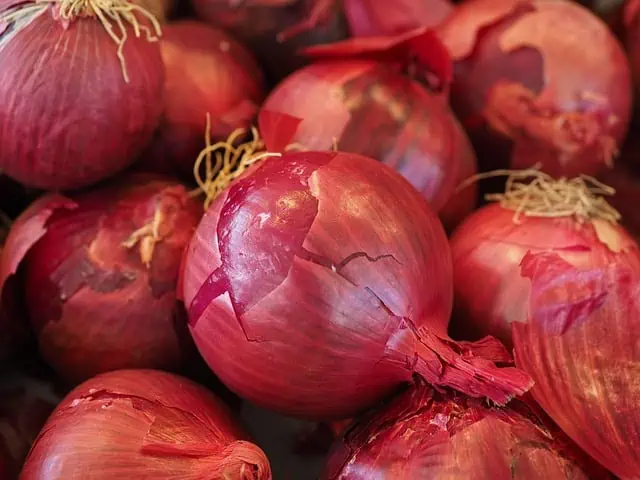 Boosting Libido
While research is limited, some studies suggest that raw onions may have aphrodisiac properties, which can enhance libido. Onions contain nutrients that aid blood flow, an essential factor for sexual health. Including onions in your diet can potentially boost your libido and overall sexual health.
Supporting Prostate Health
Prostate health is a significant concern for men, especially as they age. Onions are rich in antioxidants and anti-inflammatory compounds, which are beneficial for prostate health. They may help reduce the risk of prostate enlargement and prostate cancer.
Promoting Fertility
Onions have been associated with improved fertility in men. They are rich in antioxidants, which can protect sperm from damage, and several minerals important for sperm health. Some studies suggest that onion juice can improve sperm quality and can have protective effects against testicular oxidative damage.
Boosting Heart Health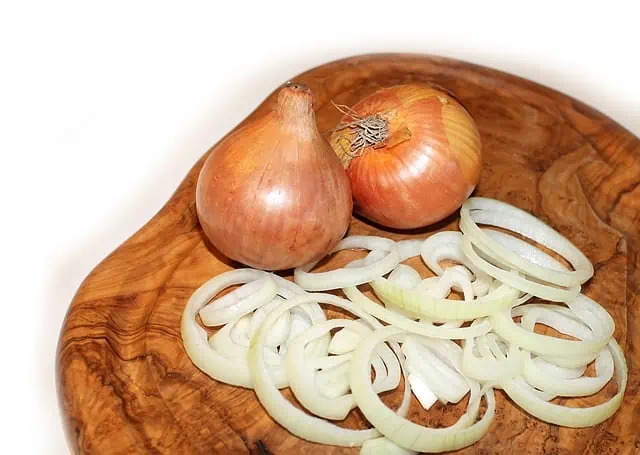 Regulating Blood Pressure
Onions contain heart-healthy nutrients like flavonoids and sulfur-containing compounds that have been shown to lower high blood pressure, a common concern for many men. According to a study published in the British Journal of Nutrition, consuming onions can have a significant effect on reducing systolic blood pressure.
Reducing Risk of Heart Disease
The quercetin found in onions not only acts as an antioxidant but also plays a vital role in preventing heart disease. It reduces inflammation, lowers cholesterol levels, and prevents blood clots. Research published in the Journal of Nutrition suggests that quercetin can significantly decrease the risk of heart disease.
Anti-Inflammatory Effects
Chronic inflammation can lead to heart disease and other serious health problems. Onions are rich in anti-inflammatory compounds that can help reduce inflammation and the associated risks. Studies indicate that the quercetin in onions exerts potent anti-inflammatory effects.
Enhancing Digestive Health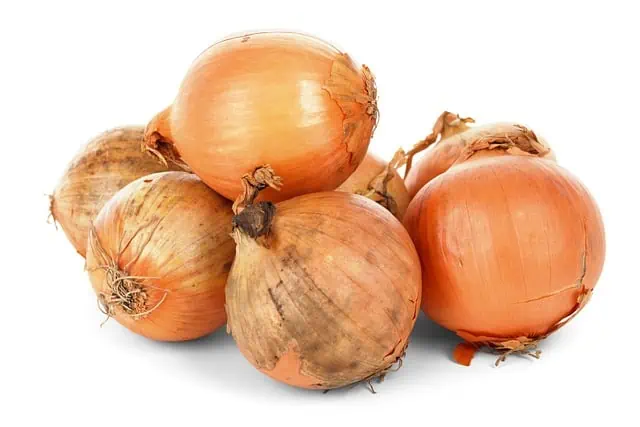 Supporting Gut Health
Onions are rich in fiber and prebiotics, which are necessary for optimal gut health. These substances support the growth of beneficial gut bacteria, which contributes to digestive health, immune function, and reduced inflammation. According to research published in the Nutrition Research journal, regular onion consumption can enhance gut health.
Preventing Gastric Ulcers
Onions can help prevent the formation of gastric ulcers. They inhibit the growth of Helicobacter pylori, a bacterium that can cause stomach ulcers and even stomach cancer. Studies have shown that the sulfur compounds in onions have strong anti-Helicobacter pylori activity.
Boosting Immunity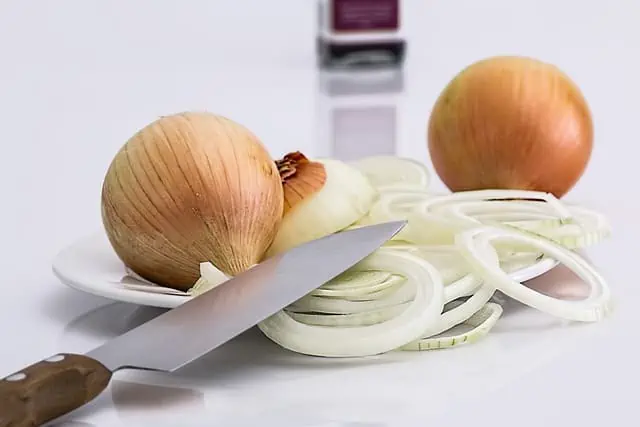 Potent Antioxidant Properties
Rich in potent antioxidants such as quercetin and vitamin C, onions can strengthen the immune system by combating harmful free radicals. These antioxidants also prevent cellular damage that could lead to chronic diseases.
High in Protective Polyphenols
Onions are among the top sources of polyphenols, a type of antioxidant that includes flavonoids and phenolic acids. These polyphenols play a crucial role in disease prevention and overall health. They are known to boost immunity and reduce inflammation.
Promoting Skin and Hair Health
Enhancing Skin Health
Due to the abundance of vitamins A, C, and E, onions are great for skin health. These vitamins aid in skin cell regeneration and protection against harmful UV rays. The antioxidant properties of onions also help in preventing premature skin aging.
Supporting Hair Health
Onions are rich in sulfur, an essential nutrient for hair health. It promotes strong and thick hair, stimulates hair growth, and reduces hair loss. A study in the Journal of Dermatology discovered that applying onion juice to the scalp could help with alopecia areata, a type of hair loss condition.
Countering Misconceptions About Onions
Onions Cause Bad Breath?
While it is true that onions can cause a temporary bad breath, their benefits far outweigh this minor inconvenience. Practicing good oral hygiene, including brushing, flossing, and using a mouthwash, can effectively counteract onion-induced bad breath.
Onions Cause Teary Eyes?
Cutting onions may lead to teary eyes due to the release of certain compounds. However, this problem is easily solved by using sharp knives, chilling the onions before cutting, or cutting them under running water.
Are Onions Toxic?
Onions are not toxic to humans when consumed in moderation. They are safe and healthy for most people. However, they can be toxic to pets like dogs and cats, and hence should be kept out of their reach.
Maintaining Healthy Blood Sugar Levels
Regulating Blood Sugar
Onions can contribute to maintaining healthy blood sugar levels. The fiber content helps slow the absorption of sugars into the bloodstream, preventing spikes in blood glucose. Additionally, compounds in onions, like quercetin and sulfur, have been shown to have anti-diabetic effects.
Preventing Insulin Resistance
Insulin resistance can lead to type 2 diabetes, a growing health concern for many men. A diet rich in high-fiber foods like onions can help prevent insulin resistance. Further, the sulfur compounds in onions have been found to enhance insulin sensitivity.
Potential Role in Diabetes Management
Research indicates that onions may have potential benefits for diabetes management. Several studies suggest that consuming onions can reduce high blood glucose and cholesterol levels in people with diabetes, highlighting its role in diabetes management.
Fighting Cancer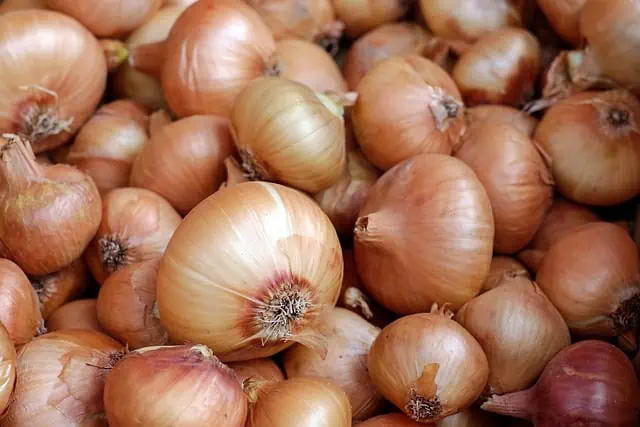 Rich in Cancer-Fighting Compounds
Onions are rich in powerful compounds like quercetin and sulfur compounds, which have been shown to have anti-cancer properties. They help to inhibit the growth of cancer cells, reducing the risk of several types of cancer.
Reducing Risks of Gastrointestinal Cancer
Research suggests that the consumption of allium vegetables, like onions, can reduce the risk of gastrointestinal cancers, including stomach and colorectal cancer. One study found that individuals who consumed the highest amount of allium vegetables had a nearly 50% lower risk of getting gastric cancer than those who consumed less.
Antioxidants and Cancer Prevention
The antioxidants found in onions help protect the body from damage by free radicals, which is associated with cancer development. Therefore, including onions in your diet can potentially help in cancer prevention.
Improving Bone Health
Enhancing Bone Density
Onions are beneficial for bone health as they are rich in quercetin. Quercetin has been shown to have potential effects on bone health. Research suggests that consuming onions regularly may improve bone density, particularly important for older men.
Reducing Risk of Osteoporosis
Osteoporosis, characterized by weak and brittle bones, is not only a women's health issue; it affects men too, particularly in their later years. Onions, rich in antioxidants and anti-inflammatory compounds, can help reduce the risk of osteoporosis and bone fractures.
Onions and Arthritis
The anti-inflammatory properties of onions can help manage symptoms of arthritis, a condition causing pain and inflammation in the joints. Regular consumption of onions may help reduce arthritis-related inflammation and discomfort.
Conclusion
From heart health to immunity, onions offer a myriad of benefits for men's health. Packed with essential nutrients, antioxidants, and anti-inflammatory compounds, they can be an effective dietary addition for health-conscious individuals.
While some may argue about the minor inconveniences, such as teary eyes and bad breath, the health benefits of onions substantially overshadow these issues. So, don't let these minor deterrents keep you from experiencing the robust health benefits of this remarkable vegetable!