Shirts, pants, socks, underwear, toiletries… those are all the easy and straightforward things to figure out.
Yes, you are allowed to take supplements on an airplane. Protein powder in your carry-on and checked luggage is also allowed. This holds true even when you are traveling internationally to Europe, Mexico, and other destinations.
While they are allowed, they can still cause issues.
For starters, there's the space issue. Even the expensive vitamin and supplement brands oversize their bottles 2 or 3 fold. They fill them with air to look bigger, which is wasted space you certainly don't have room for in your hand luggage.
Then there's the issue of suspicion.
The TSA agent may ask: Why do you have all these pills?!
Of course, none are "pills" or prescription medications. However, the airport security guard doesn't always appreciate the difference.
Bringing protein powder or creatine on a plane poses its own problems. Those tubs are big and have lots of air space. Packing bags of powder can also raise eyebrows with security.
What works best?
While there's no guarantee that our advice will always work, the following strategies can offer you:
The most compact, efficient use of space.
The least likely to confuse airport security and customs agents.
The easiest organization for your dietary supplements and muscle-building stack.
This is based on extensive travels throughout the world. From dealing with Nazi-like security at London Heathrow, to traveling for weeks at a time using just one duffel per person, which is smaller than a domestic carry-on. You're forced to use those in remote Africa, as you're on tiny planes with just a couple seats.
From those and many other journeys, we have a system down that is about as dependable as one can expect. It also saves us money, because we don't need extra luggage or to buy protein powders in the individual packets (those are a big ripoff).
Now the flight attendant on Delta Airlines may not be too happy with your mess, from mixing that protein powder in a cup of water on the tray table… but at least you were able to bring it on the plane!
How to pack your supplements
If you're only on a couple different ones per day, and you take them at AM and PM only, then the easiest solution will be to buy a good vitamin storage container.
If you're on a multitude of different vitamins, minerals, nootropics, and other health supplements, then keep reading. Especially if you split your doses, where you're taking them 3-6x per day.
Serious supplement users will do best by organizing them in mini zip bags.
The problem with Ziploc bags and generic equivalents is that even the "snack size" is too large.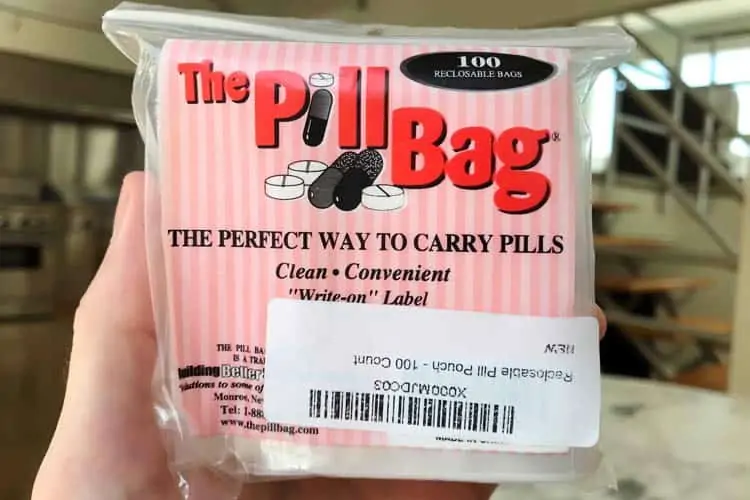 How to pack supplements for air travel is easy with Pill Bags. Each is 2" x 3" in size, has an airtight seal, and a writable label. They're BPA-free and made out of Low Density Polyethylene (LDPE). These bags are a safe and sanitary way to divide out your dosages ahead of time. Pill Bags take up less space and weight than a travel vitamin dispenser or organizer.
This nice thing about using bags is that (a) they have more space than the compartments in hard plastic cases, and (b) you can customize how many times per day you take them.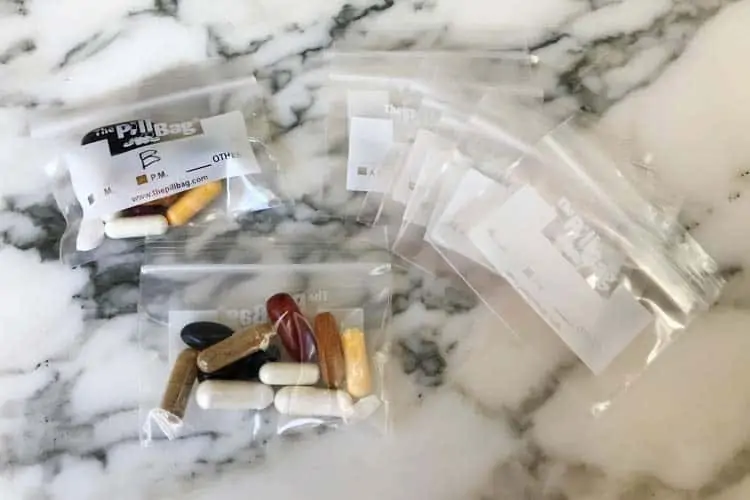 For example, if you're traveling with vitamins and supplements that are taken 3x daily, then you could have bags marked for breakfast, lunch, and dinner.
If you have probiotics and herbal supplements for digestion that you want to take separately prior to meals, you could store those in a separate bag.
When you organize your supplements by dose, you don't have to hassle with opening and closing multiple bottles, or fumbling around with a bulky vitamin dispenser. Just slip one bag in your pocket ahead of time and you'll be ready for your next dose.
The only drawback with Pill Bags is that they're clear. Light exposure will degrade most vitamins, antioxidants, and other phytonutrients. Amino acids (proteins) generally don't degrade from light. Minerals will also be fine.
On one 14 day trip to Tanzania, we tried something different; using small black ziploc bags for vitamins.
They are recloseable, but their seal isn't that strong. Since you can't write on them, we had to attach blue painter's tape, to write what each bag contained.
The ideal would be Pill Bags made in black. Unfortunately they only make clear. Since there aren't good small black resealable zip bags on the market, we have chosen to stick with Pill Bags.
If you want to try out the black bags seen above, here's the link for them on Amazon.
With the clear Pill Bags brand, just make sure you pack them behind opaque material, such as a dark compartment inside a backpack.
Why little travel packs look better
When you pack them this way, they actually look less suspicious to airport security.
Why? Because if you packed a bag of say, 50 white capsules that were identical, they might look like a prescription drug. Even though they're not.
However, when you pack them by dose, the eclectic array of capsules and softgels looks more like vitamins than medication.
For example, a white 500 mg capsule may look suspicious by itself, but if it's in a bag next a yellow omega 3 softgel, a brown CoQ10, and a greenish herbal capsule, when viewed together they look like what they are; dietary supplements.
You would think you would be able to buy Pill Bags at Target, CVS, Walmart, Walgreens and similar stores. The only physical store we have seen them for sale at is The Vitamin Shoppe, which is not somewhere we even shop! We recommend buying them on Amazon.
How to travel with powder
If there's one thing more difficult than capsules, it's flying with bags of powder.
Especially those which are white, the color of many powdered supplements.
It could be BCAA powder for workouts in your carry-on, or a calcium and magnesium formula you're taking overseas in checked luggage. Both may draw scrutiny.
When you are traveling with powder supplements, it's best to bring them in your carry-on. Because that way, you will at least have the opportunity to explain to TSA what they are. If you fly domestic and particularly international, having the powder bags in your checked suitcase may lead to search and seizure, while they figure out what the mystery substance is. Your luggage may arrive late, or not at all!
For pure white powders, unfortunately you will want to travel with their retail packaging. That way, their origin is more obvious to the airport security agents.
Fortunately, most protein powders are not white.
The pure white ones are most likely supplements you're taking in a smaller dose, such as a ¼ teaspoon. The retail packaging for them makes an OK sized travel container.
With proteins, it's different. They're huge!
Protein powder while traveling by air is best done via repackaging. Whether it's plant-based proteins like Sunwarrior and Nuzest, or a whey powder, all of those tubs tend to have lots of wasted air space inside. Plus, the containers are often susceptible to bursting open if crushed.
To save space, it's best to measure out your protein powder and put each serving in a small Ziploc bag. Plain and vanilla flavors are usually a cream color, which seems to draw less scrutiny than pure white powders. If you have some bags of chocolate mixed, that looks even better.
To prevent leaks, put all your tiny bags of powdered workout supplements in larger zip bag. That way if the closures on the small bags open, the leaking of powder is limited.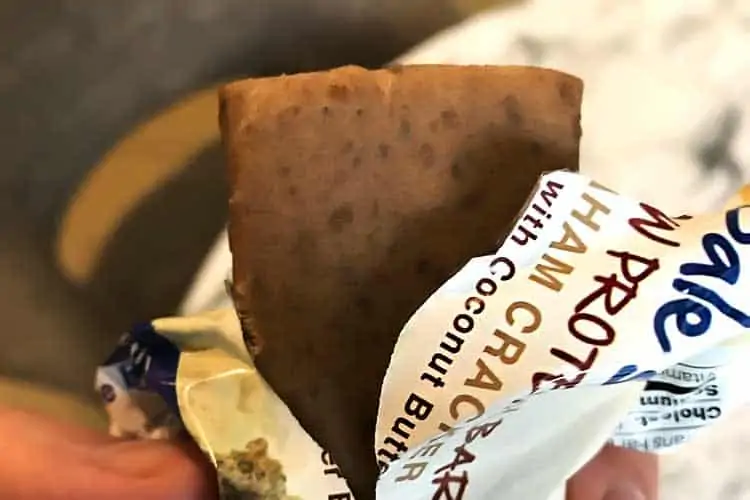 On a related note, dense protein bars which are uniform in consistency have always raised red flags with security for us.
Whether you're traveling in the US, to Canada or Mexico, or overseas, it doesn't matter. The X-ray scanners used for carry-on bags always flag our Dale's vegan protein bars as appearing to be explosives! Despite having TSA Precheck and Global Entry, the bars always end up needing physical inspection and testing by an agent.
To avoid this, pack protein bars that don't look like a Tootsie Roll. Ones with different textures and less density don't seem to trigger the security software.
Going back to your protein powders, we find these Glad Zipper snack bags work better than the same-sized Ziploc brand. The double-seal on Glad seems to hold better.