What's the difference between white and green pumpkin seeds?
Commonly called pepitas, the green seeds were developed during the ancient Austro-Hungarian Empire. Dating back to at least the 17th century, they're naturally hull-less. This makes the green easier to eat. They're also known as Stryian or Austrian pumpkin seeds. Styria is a province there which is famous for growing them.
Both green and white pumpkin seeds come from the same species; Cucurbita pepo (pumpkin plant). There are many different cultivars of this plant, which produce different sizes, shapes, colors, and seeds.
White pumpkin seeds come from more common cultivars of the pumpkin, such as those used to carve Jack-o'-lanterns at Halloween. They have a thick white shell which isn't very edible if raw. When roasted, they're delicious.
Whichever form you fancy, you should eat them regularly. They rank among our top superfoods for men.
Why?
Because they are one of the highest natural food sources of L-arginine.
That's an amino acid which plays an important role in nitric oxide production, something very important for healthy blood flow.
In a double-blinded and placebo controlled clinical trial, consumption of L-arginine has been linked to "significant improvement" in erectile dysfunction. (1)
But wait, even if you're a woman, or a man who's doing just fine downstairs, there are a plethora of other health benefits which are just too good to ignore.
Three reasons to eat them daily
1. More protein per calorie than every other seed and nut.
With 8.52g per 200 calorie serving, they beat almonds, pistachios, sunflower seeds, cashews, and all other common types. Peanuts have 0.5g more, but those are technically a legume!
2. Rich in essential minerals
Each ounce of pepitas offers you 42% of the daily value for manganese, 37% for magnesium, 33% for phosphorus, 23% for iron, 14% for zinc, and 6% for potassium.
3. Food allergy friendly
Did you know that up until 2017, there wasn't even a study on the specific allergens in pumpkin seeds, because reactions from eating them are so rare! (2)
You have lots of good reasons to eat them, but there's one major drawback; even USDA certified organic pepitas are typically sourced from Chinese-grown crops.
Why are all pumpkin seeds from China?
China is by far the world's largest producer of pumpkins. Each year, their crop is greater than the next six largest producers which are the United States, Mexico, India, Russia, Iran, and Ukraine. While the vegetable itself is a popular food in China, the seeds are not. Therefore, it's no surprise that most of them get exported, especially to the US and Canada where they're a favorite snack food. (3)
The following organic brands of raw pepitas all list China as the country of origin: NOW Foods, Bob's Red Mill, Vitacost, Terrasoul Superfoods, Eden Foods, and Food To Live.
Go Raw sprouted pumpkin seeds don't disclose the country of origin and inquiries asking remain unanswered. Either way, they only sell them with lots of added salt.
Keep in mind, those are expensive organic brands! The cheaper and conventionally grown are even more likely to be coming from that communist country.
Are pumpkin seeds from China safe to eat?
Yes, assuming rules and regulations are followed, the seeds should be safe to eat no matter which country they're grown in. Still, many people have valid concerns about the water supplies used to irrigate them (pumpkins are a very water-intensive crop) and the more hands-off regulatory environment in China.
Plus, there's plenty of precedent for being alarmed.
Although not pumpkin, Chinese sunflower seeds have been found to contain alarming levels of aluminum. There was potassium alum, talcum powder, paraffin wax, and other processing agents. (4)
At least with goji berries, they grow best at high elevations. Many, if not most, come from the more remote mountainous region in the Xin Jiang Province.
With cultivars of the squash plant (Cucurbita pepo), they can be grown just about everywhere. Elevations high and low, in a variety of climates and soil conditions.
Even the certified organic sources might be grown in fields adjacent to an industrial waste zone for all you know. Because remember, organic certification isn't the vetting of water quality and environmental pollution!
In short, both conventional and organic Chinese-grown pepitas should be safe. Though given the difficulty in scrutinizing the supply chain, you may feel more comfortable eating pumpkin seeds grown in America, Australia, New Zealand, United Kingdom, Austria, or almost anywhere else, right?!
Reviews of the best US-grown & Austrian sources
1. Wilderness Poets Oregon pumpkin seeds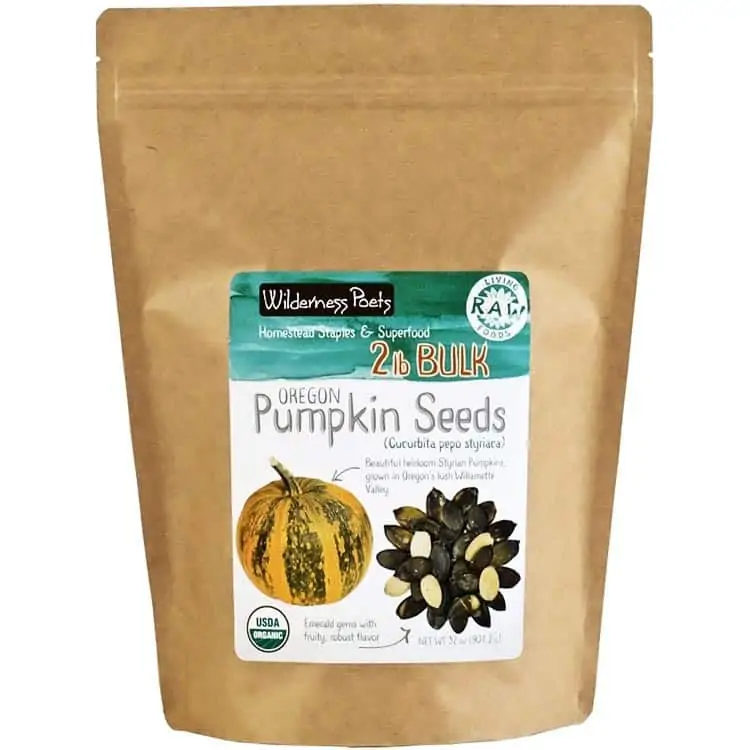 Given its high amount of rain, the Pacific Northwest is an excellent region for growing gourds of all kinds. These are grown in the Willamette Valley of Oregon.
Wilderness Poets are raw and unpasteurized seeds which come from organically grown heirloom Austrian pumpkins.
Often called the true Styrian variety, these are distinctly different than your run-of-the-mill pale green pepita. Expect to see different shades of green and yellow on their skin. They taste more intense, with a texture that's chewier and softer.
The only disadvantage of these are the cost. They're not cheap. Then again, it's not fair to compare their price to the Chinese competitors.
How much? Here's the current price on Amazon.
2. CB's Nuts organic white pumpkin seeds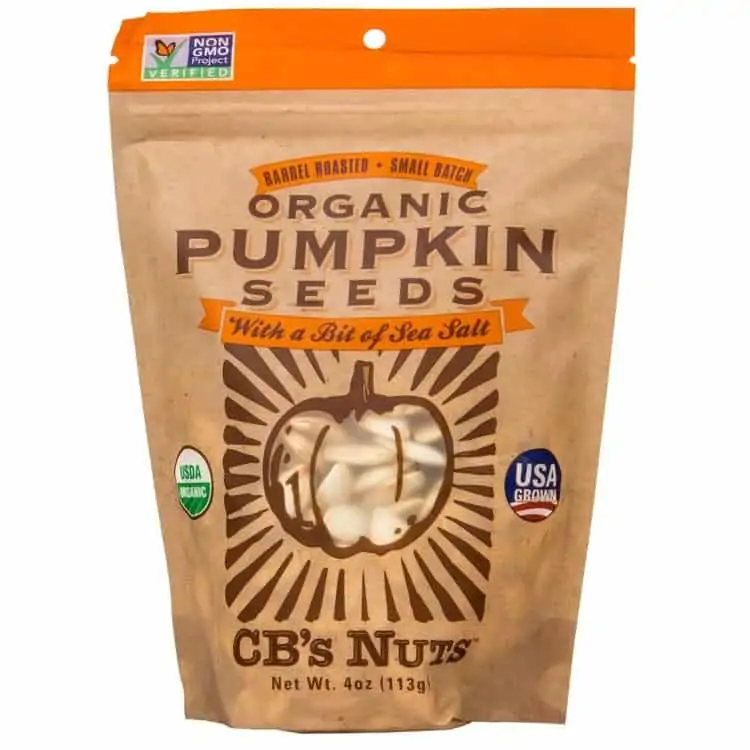 For topping acai and maqui bowls, you'll want to use seeds without a shell (the green kind).
Other times, you may be in the mood for classic roasted white pumpkin seeds. You know, the kind you scoop out of the Jack-o'-lantern in late October.
They're too tough on the stomach to eat raw, so these are ones you will want to roast or better yet, buy pre-roasted.
CB Nut's proudly proclaims that they're USA grown on the front of the bag.
Grown in Oregon and prepared in Washington State, where they're brined in a solution of sea salt and water. Next, they're slow barrel roasted in small batches, making them digestive-friendly and oh-so-tasty. No oils are added.
They're made in a tree nut free facility and are guaranteed to be vegan and kosher. Of course since they're USDA organic, they'll be non-GMO, too.
Where to buy? We haven't seen them at local stores but you can easily pick up a bag on Amazon.
3. Sunfood heirloom pumpkin seeds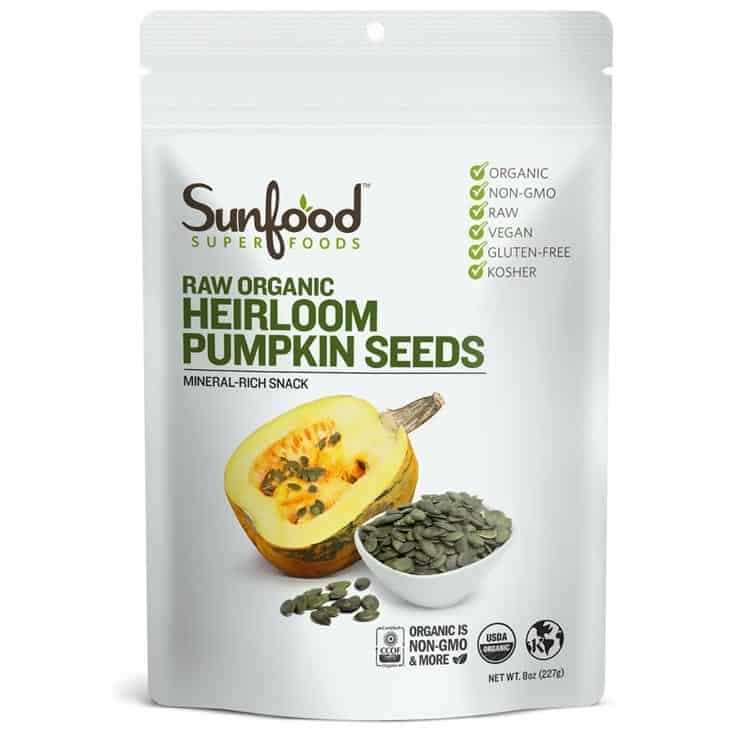 Wilderness Poets are Austrian pumpkin seeds but they're grown in America. If you want raw and organic which are really imported from Austria, then check out the brand Sunfood Superfoods.
They come from an heirloom Austrian variety, which naturally produce seeds without shells. USDA and CCOF certified organic.
They're dried at low temperatures to keep the nutrients intact. They're packaged in a gluten free facility.
Not all retailers that carry the Sunfood brand will carry this particular product, though many will. Here is the link for them on Amazon.


These statements have not been evaluated by the Food and Drug Administration. This product is not intended to diagnose, treat, cure, or prevent any disease.