What is a marionberry fruit?
It's a type of blackberry that was developed by the U.S. Department of Agriculture as part of Oregon State University's breeding program. Introduced in 1956, the marionberry is a cross between two blackberry varieties (cultivars) known as Ollalieberry and Chehalem. They start out red and when fully ripe, are a deep purple.
It came from Marion County, Oregon and that's where the berry got its name.
In terms of plant species, there is technically no difference between marion berry and blackberry. The scientific name for both is Rubus L. subgenus Rubus. Having an identical plant genus and subgenus classification means that marion berries are the same as blackberries.
Identical species, but different flavor.
Just like how beefsteak and heirloom tomatoes are both of the Solanum lycopersicum species, yet differ dramatically, the same holds true for this Oregon creation.
And by creation, remember this was in the 1950's. Long before DNA tinkering. All marionberries are non-GMO. They were created using natural breeding methods.
Relatives
When you compare marionberry vs. mulberry, the only thing they have in common is appearance. Marions are from the Rubus genus and they grow on a bush. Mulberries are from the Morus genus and they grow on a large tree. Mulberries are native to Asia, not the Americas like blackberries.
Huckleberries are closely related to blueberries, but not marion blackberries.
The marionberry does share close genetic lineage with boysenberry, loganberry, and silvanberry. Here is the plant's pedigree…
What does marionberry taste like?
A marionberry looks similar to a standard blackberry, except the size is bigger and it's more cone-shaped.
Unlike the common Evergreen blackberry, the marionberry is sweeter and juicier. It still has hints of tartness but the sugar is stronger. This complex yet earthy taste has been compared to Cabernet grapes.
One way to describe the flavor is to imagine crossing a blackberry with a red raspberry. Still tart, but sweeter.
When are they in-season?
In Oregon, the marionberry season spans from mid-July through August. It's a short season and demand often exceeds supply. Delicious fresh and the rest is highly desirable for making jams, pies, and preserves.
Over 90% of the world's crop is grown near Salem, which is the county seat of Marion County. The Willamette Valley's moist climate, along with the warm days and cool nights of summer, make it the perfect growing zone.
There and throughout the state of Oregon, you will find over 500 growers. From large scale farms to U-pick marionberry patches, their annual output exceeds 30 million pounds. (1)
7 Health benefits
1. More antioxidants than typical blackberries
ORAC values testing tells us that marionberries have slightly more antioxidant activity than evergreen blackberries, which is a type you are much more likely to encounter at the grocery store. The overall antioxidant advantage is small, except for one big difference… anthocyanins.
Those are the pigments which give the berries their color. Aside from being antioxidants, they may offer other health advantages.
Marion blackberries contain 70% more anthocyanins versus Evergreen. (2)
2. May influence genes related to weight loss
One perk that anthocyanins are being studied for is weight loss.
Using cultured human fat cells in the lab, Japanese scientists isolated from purple corn the same type of anthocyanins; cyanidin and cyanidin 3-glucoside (C3G). They observed anti-obesity and anti-aging effects in cells when exposed to minute amounts of these.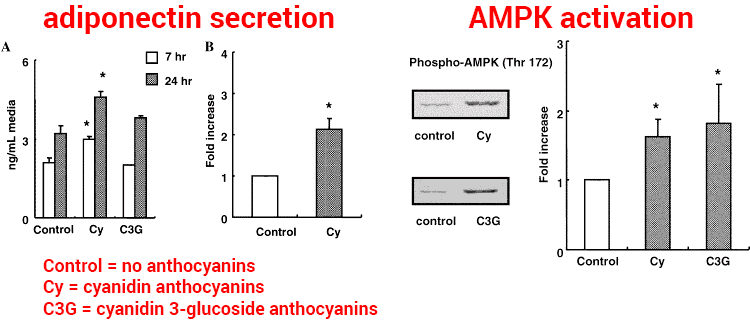 There was more secretion of adiponectin, which is a hormone that helps reduce feelings of hunger.
The AMPK pathway had activity that was over 50% higher.
Higher AMPK activity, such as that seen in young and fit individuals, is linked to a healthier weight and metabolic profile. Lower AMPK activity is associated with type 2 diabetes and sedentary lifestyles. This is why you want to boost your AMPK. (3)
3. Low calorie
Setting aside gene expression, these are the perfect food for dieting.
One cup of fresh and juicy marion clock in at only 75 calories. That's a guilt-free way to satisfy your sweet tooth.
4. High fiber
One cup of fresh marionberries contains 7.6g of fiber, which is 30% of the daily value.
That fiber can also help you feel full for longer, versus all those low-fiber and carb-rich snacks that lead to endless eating.
5. Researched for anti-cancer potential
To be clear, there is not adequate evidence that blackberries (or any other berry) can prevent, treat, or cure cancer. There is preliminary research which infers that certain compounds in them might be beneficial, but a lot more research is needed.
The USDA reports how the cyanidin-3-glucoside (C3G) isolated from fresh blackberries (type unspecified) were tested in animal models of skin and lung cancer.
"…they found a significant reduction in the number and size of skin tumors among the mice that had been supplemented with C3G, when compared to those that had not been supplemented."
That's a direct quote. In the lung cancer model, the tumor growth was less and so was the spread of cancer to their other organs. (4)
Researchers at UCLA tested extracts of:
Blackberry (type unspecified)
Black raspberry
Red raspberry
Blueberry
Cranberry
Strawberry
Each was tested in the lab against the following cultured cell lines:
Breast cancer (MCF-7)
Colon cancer (HT-29, HCT116)
Oral cancer (KB, CAL-27)
Prostate cancer (LNCaP)
Here were the results…
All of these fruits inhibited cell proliferation in a dose-dependent manner. The dosages were small, too. 25-200 ug/mL is only a concentration of 0.0025% to 0.02%. (5)
While not specific to blackberries, a decade ago the University of Louisville attempted a human clinical trial using a mixed berry powder, to measure the effect on non small cell lung cancer. Not in place of normal treatments but rather for use in conjunction. The trial was eventually terminated though, because they weren't able to recruit enough people to participate. ClinicalTrials.gov Identifier: NCT00681512 (6)
6. May boost brain performance
Nootropics, or brain-boosting supplements, are all the rage these days. Some of the best ones aren't lab creations, but rather 100% natural foods.
When old rats (19 months) were fed a diet where 2% was in the form of a blackberry supplement, they saw:
Better short-term memory based on the Morris water maze, which is widely used in animal research for this purpose.
Better motor performance according to various tests (accelerating rotarod, wire suspension, and the small plank walk).
Other research using wild blackberries have suggested neuroprotective effects by reducing ROS levels in the brain (antioxidant) and modulating glutathione levels (a natural antioxidant we make). Scientists believe such effects might help slow Alzheimer's disease and dementia progression. (7)
Of course, rats are not the same as humans, but these are promising preliminary findings. (8)
7. Frozen and freeze-dried maintain nutrition
Being that their season is barely a month long, for the other 90% of the year your only option will be the preserved forms.
The good news is that the nutrients in this fruit hold up well during freezing, freeze-drying, and even air-drying.
In the graph, the grey bars represent conventionally grown, the white are organic marionberries, and the black are grown with "sustainable agricultural practices."
Based on total phenolics before and after, all hold up quite well. (9)
Nutrition facts
Fresh Marionberry Nutrition Facts
Serving Size: 1 cup
Calories: 75
% Daily Value*
Total Fat 1 g
2%
Saturated Fat 0 g
0%
Trans Fat 0 g
Sodium 0 mg
0%
Total Carbohydrate 18 g
6%
Fiber 7.6 g
30%
Sugar 4 g
Protein 1 g
*Percent Daily Values (DV) are based on a 2,000 calorie diet
Noteworthy vitamins and minerals in marionberries include vitamin B6, folate (B9), vitamin C (ascorbic acid), vitamin E, vitamin K, potassium, magnesium, iron, and calcium. The USDA National Nutrient Database does not include nutritional values for these but they are reported in other scientific literature. (10)
Where to buy
Unlike the Evergreen, Pacific, Chehalem, Himalayan, Olallieberry, and other common microspecies of blackberry, the marion type doesn't hold up well to shipping long distances. Because they're juicier, they break easily and perish faster. As a result, it's very hard to buy fresh marionberries outside of Oregon and the Pacific Northwest.
Here in Southern California, which is where Superfoodly is based, we have seen frozen marionberry pies for sale. If you want gluten free or vegan, you'll have to make it yourself.
Some stores sell the plain frozen berries, but those too are hard to come by.
Trader Joe's only sells regular blackberries and that holds true for most grocers.
At Costco you can buy them as part of a mixture; Kirkland Signature Nature's Three Berries, 4 lb bag. It contains raspberries, blueberries, and marionberries. They're not organic.
Your best bet on finding them will be at retailers who carry the frozen fruit and vegetable brand Stahlbush Island Farms. Their product line includes a 10 oz bag of marionberries that are frozen. Sustainably grown but non-organic.
On Amazon you can buy marionberry jam, syrup, and freeze-dried berries.


These statements have not been evaluated by the Food and Drug Administration. This product is not intended to diagnose, treat, cure, or prevent any disease.
Main photo credit: The IR-4 Project at UC Davis (11)