Because heat destroys vitamin C and many other phytonutrients, veggies and fruits are usually healthiest when eaten raw.
One of the few exceptions is the tomato.
Tomatoes are the most potent food source of lycopene; a unique and rare antioxidant which may reduce the risk of prostate cancer in men and breast cancer in women, among others. (1) (2)
Lycopene is what gives them their red color but very few red foods contain it. With the exception of watermelon, guava, goji berries, papaya, and pink grapefruit, there aren't really any other sources in the average human diet.
Unlike many antioxidants which are destroyed by the heat of cooking, lycopene is not and actually, it becomes more powerful.
That's because the heat makes lycopene 3 to 4 times more bioavailable. Meaning, your body can absorb it easier. (3)
That means ketchup, marinara, and even a can of Campbell's soup are excellent sources… except for two major problems; added salt and sugar.
What is the best spaghetti sauce to buy?
The best store bought spaghetti sauce will be one which is low in sodium and has no added sugar. If oil is added, ideally it should be extra virgin olive instead of canola. High amounts of oregano, basil, and garlic will add antioxidants.
Canned tomatoes typically use BPA or bisphenol-S (BPS) to prevent the acidity from eating away the aluminum. Even the BPA-free linings may be just as dangerous, if not more so, when it comes to their hormone-mimicking effects. For that reason, the healthiest pasta sauces are those sold in glass jars. (4)
The top 5 brands
A brand may skip the salt but add sugar. Or vice versa. The hard part is finding a premade pasta sauce that forgoes both.
Trader Joe's no salt marinara sauce is organic but not healthy. It contains 6g of sugar per serving, which means 36g per jar. That's 9 teaspoons. It's just shy of the 39g found in a can of Coke. A total disaster for diabetics and frankly, anyone.
Hunt's sugar free spaghetti sauce contains 600 mg of sodium per ½ cup serving. That's nearly twice the sodium content of an average sauce for spaghetti.
If you want an oil-free marinara that also has no added sugar or salt, forget about it!
Not all of the following brands are perfect. Some have drawbacks like being non-organic, or they use less-than-premier ingredients.
Regardless, they're all healthier than the sodium bombs you normally get with Ragu, Prego, Hunt's, Barilla, Classico, Bertolli, Newman's Own, etc. Those typically have 300-600 mg per 1/6 of a jar.
That means if you eat half the jar, you may have already exceeded the total daily sodium intake as recommended by the American Heart Association, which is 1,500 mg. Terrible for those with high blood pressure, as well as those without, because excess sodium causes inflammation in the body… in everyone! (5) (6)
More expensive brands, like Rao's Homemade and Dave's Gourmet, are just as bad. Some are even worse.
What follows are some options which are far healthier than your average store-bought sauce.
1. Eden organic spaghetti sauce no salt added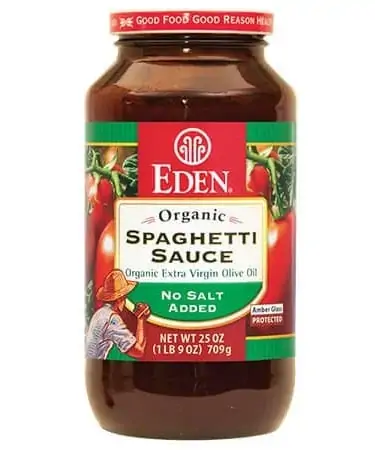 There's no such thing as a no salt marinara. That's because both plants and animals naturally contain sodium. So whether you're a vegan or omnivore, you're still getting sodium from the foods you eat. No matter what.
That's why added sodium is so unnecessary.
Eden's pasta sauce has no salt added, which means the sodium content is that which is naturally coming from the tomatoes and herbs it uses.
It contains 25 mg of sodium per serving, which is 1% of the daily value. There's no extra sugar, corn syrup, or other sweeteners used.
What makes this spaghetti sauce extra special is that Eden Foods uses heirloom tomatoes. Roma and Napoli, from a 5th generation family farm in Michigan.
Eden uses olive oil, not canola or another inferior filler.
Another unique benefit is that they bottle it up in an amber glass jar. This darkness helps prevent UV and the rest of the light spectrum from degrading the nutrients.
Where to buy
We bought it during a trip to Ann Arbor, where it's easy to find since Eden Foods is based in the nearby rural farming community of Clinton, Michigan. Back home on the west coast, in Los Angeles, our Whole Foods and other local grocers don't seem to carry it. Here is the link for it on Amazon.
2. Muir Glen no salt tomato sauce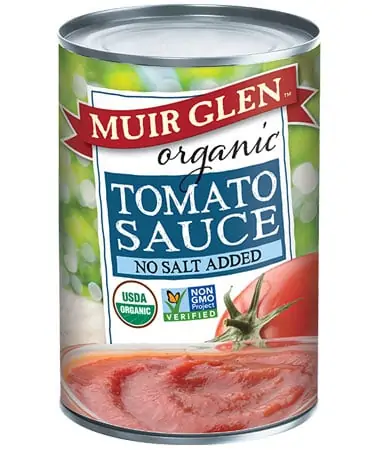 All Muir Glen products are organic.
Unfortunately, their pasta sauce in glass jars all contain added salt; 300 mg per or more serving.
They do make a canned tomato sauce with no salt added. It does use one of the better BPA-free liners on the market.
The ingredients are tomatoes, onion powder, and garlic powder. It's a sugar free spaghetti sauce. Or at least, there's none except for that which is naturally in the tomatoes.
While not the most exciting or tasty on its own, you can easily boost the flavor by adding your own herbs and spices. We like it with oregano and chili pepper flakes.
Per ¼ cup serving, there's only 20 mg of sodium.
Where to buy
Since Muir Glen is owned by General Mills, it's a readily available brand. You can buy their organic sauce at Walmart, Kroger, Meijer, Whole Foods, you name it. That's one of the major reasons it takes the number two slot, since it's an easy-to-find brand no matter where you live.
3. Prego no salt added pasta sauce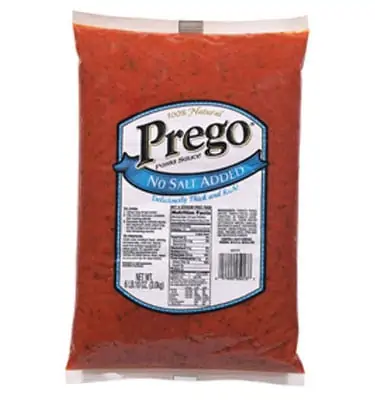 It's not organic and it's not sold in jars or cans at grocery stores.
So why are we including it among the best?
Because it's something affordable for feeding a large number of people. Schools, churches, daycares, restaurants, and big families on a budget can all benefit from the no salt Prego pasta sauce.
It's distributed by Campbell's food service, as they own the Prego brand. They sell it by the case, which contains 6 pouches that are 106 ounces each.
With 40 mg of sodium per ½ cup, it's 5-10x less than what you will find in the jarred Prego varieties.
Where to buy
Food service companies like Gordon Food Service (GFS), Sysco, and others that supply bulk operations. The Campbell's Food Service case code is 05013. To find a local distributor for it and to get pricing, call them at 1-800-879-7687.
4. Silver Palate low sodium marinara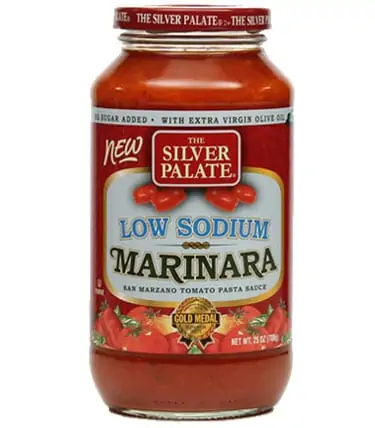 It's not the cheapest option, nor is it salt-free. However, it is one of the tastiest spaghetti toppers.
With only 115 mg of sodium per ½ cup, it contains about 65-80% less sodium than most major brands.
What's so special about The Silver Palate pasta sauce is that it uses imported San Marzano whole peeled tomatoes. The volcanic ash in that region of Italy creates a rich tasting fruit unlike those grown anywhere else.
They use extra virgin olive oil, onions, carrots, garlic, and other spices.
There's no added sugar but the caveat is that it does contain pear concentrate, which is a form of added sweetness. Still, it's nothing too naughty.
Where to buy
The Silver Palate is a niche independent brand. Since it has been around for decades, they do have relatively good distribution. You can find their low sodium San Marzano marinara at many locations of Kroger, Safeway, Sprout's, and in California, at Von's and Gelson's. It's available on Amazon.
5. Victoria low sodium marinara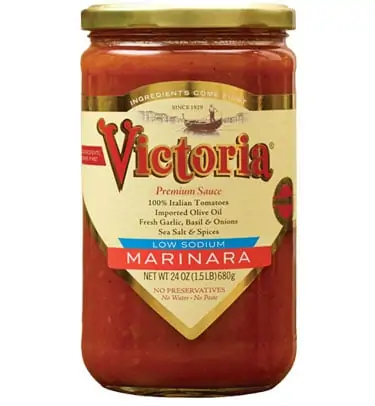 Victoria foods is a higher-end gourmet brand of sauces and none of them contain added sugar. They're best known for their vegan Alfredo sauce.
They don't qualify as no salt spaghetti sauce. Just like The Silver Palate, Victoria adds a little sea salt. It's not much. Each half-cup serving has 120 mg, which is 5% of the daily value.
It's made using premium ingredients; imported Italian tomatoes, Italian olive oil, onion, garlic, and other spices. Their only drawback is not being organic.
To paint perspective on the salt content, consider that Prego Heart Smart, which comes in glass jar, still contains 360 mg for the same amount. That's 3x higher than Victoria. The lowest sodium Ragu is 320 mg, which is also roughly 3x higher.
Where to buy
Victoria Fine Foods has been chugging along since 1929 and since their acquisition by B&G Foods several years back, the distribution has increased greatly. You can find them at higher-end supermarkets and natural health food stores. You can also get a 6-pack on Amazon.