For those of us who love some heat, chili pepper sauce seems like it could be the most perfect condiment that God ever provided.
It has almost no calories, unlike ketchup and mayo. The latter of which is loaded with cholesterol and that's not the case with this condiment, since it's entirely plant-based. Here at Superfoodly, we even use it as an oil-free alternative to salad dressing!
The Achilles heel is the salt.
A max of 1,500 mg per day of sodium is what the American Heart Association recommends. (1)
Whether you have high blood pressure or not is besides the point, because lots of salt is bad for you no matter what.
Even in healthy individuals, it causes inflammation throughout the body, and a "high-salt diet has a potential to bring about excessive immune response, which can be damaging to immune homeostasis." (2)
Almost all of the mainstreams brands are a train wreck for your health.
Louisiana may only be the 2nd fattest state, but it's the number one worst hot sauce among the big guys. A whopping 200 mg per teaspoon!
Its closest competitor, Frank's Red Hot, is only a hair better at 190.
Cholula and Tapatio are "only" 110 which wouldn't be so bad, except for the fact that they're so mild. You end up needing a third of the bottle per meal just to get a little flavor, right?!
If you think the "healthy" brands are better, most are actually worse for you.
Arizona Pepper's Organic Harvest Foods is the most prevalent. It clocks in at 180 mg!
Sky Valley sriracha by OrganicVille shouts "Gluten Free" on the front, yet the real news is on the back label. 150 mg per teaspoon, which is actually 88% higher than the original and superior tasting red rooster sriracha (Huy Fong).

What hot sauce has the least sodium?
Being connoisseurs of this fine condiment, our knowledge on the selection was already very extensive. Though we did some extra digging around to bring you this list of no sodium and low sodium hot sauce brands and their 25 products with the lowest sodium content.
The lowest will be Brother Bru Bru's with 0 mg of sodium, or the other brands tied for that which include some varieties of Dave's and Doc's Original.
The links point right to the product on Amazon so you can get some in a jiffy.
Trader Joe's chili pepper sauce used to be a good sodium-free option, but you know how it goes. As soon as you fall in love with a Trader Joe's product, they discontinue it, as they did with their hot sauce a couple years back.
The good news is that the most popular brand in America is also the lowest among the big names.
With only 35 mg per teaspoon, how much sodium is in Tabasco sauce beats every other major brand by a landslide. It's around 65% less than what Cholula, Tapatio, and Texas Pete's have. Louisiana Crystal is a full 100 mg more than Tabasco. Frank's Red Hot is over 500% higher salt content.
Tabasco remains a solid pick for when you can't be picky, however there are better options.
A caveat about no salt sauces
Even if the nutrition facts list 0 mg, that doesn't necessarily mean it's a salt free hot sauce recipe.
The FDA labeling law allows for rounding. For sodium, it's it's under 5 mg the manufacturer can list 0. Likewise for calories, as there are still some in zero calorie hot sauce, but the amount is less than 5 calories per serving. (3)
Plus all living organisms – whether plant-based or animal-derived – contain some amount of sodium naturally. In the case of these ingredients, that means there are trace amounts that are present in the peppers and tomatoes. Though now we really are talking super insignificant amounts!
From the list, the true no sodium hot sauce brands are and Doc's Salt-Free, Mr. Spice Salt-Free, Homesweet Homegrown, and then a staple in our kitchens which is Brother Bru Bru's Original African Hot Pepper (labeled "very hot" but it really isn't).
The healthiest substitute for Frank's hot sauce, as well as similar tasting Louisiana and Crystal, will be Doc's Salt Free. It's the only New Orleans-styled sauce on the market that really has no added salt. It's the best alternative for achieving that southern flavor in your cooking.
What are our favorites?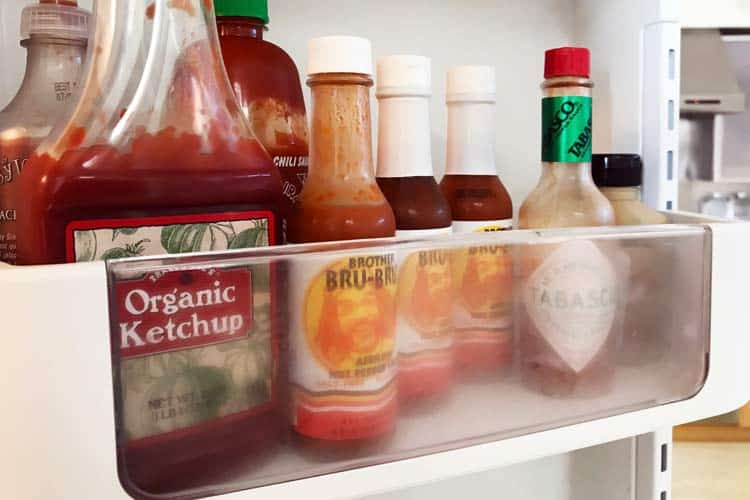 The photo you see here is what's inside one of our fridge's at the moment. Yes, there's a bottle of the red rooster sriracha, but with 80 mg of salt and that extremely mild (yet yummy) flavor, it's not for daily use since you really have to saturate your food with it.

The bottle of Tabasco was an emergency purchase, after running out of oxygen (hot sauce) and needing some ASAP.

And yes, we are well aware that most of these products do not require refrigeration, though it is a best practice to reduce bacterial growth.

Fortunately, the capsaicin content offers excellent antimicrobial and antifungal properties, which makes this one of the safest foods you can eat at any temperature. And guess what? The hotter, the safer! (4)

Based in Venice Beach, Brother Bru Bru's is merely 10 miles north of Superfoodly's HQ in Manhattan Beach. The brand has been around for decades, yet no stores in their own backyard of west LA seem to sell it. The reason you see 3 bottles in the fridge is because one needs to stock up when they encounter it. Outside of SoCal, get it on Amazon.

Missing from the shelf is another favorite which ran out a couple weeks ago. It too is a SoCal-based brand, yet this one has a rock star connection.

You may know Dexter Holland as being the singer, guitarist, and primary songwriter for the 90's punk rock band The Offspring.

What you may not know was that he graduated valedictorian from high school and although it was put on hold during his music career, he now has a Ph.D in molecular biology from USC.

Oh yeah and then there's Gringo Bandito.

This brand is not just some half-baked celeb project. This brainy guy formulated it in 2006 and since then, it has become a regular sighting throughout restaurants in Southern California. We see it at taco and Mexican cafes frequently.

We also use it at our homes, because the flavor is excellent and at 25 mg per teaspoon, it may not be innocent, though it's not the worst for you. If you're feeling adventurous, try their 4 bottle variety pack on Amazon. Some flavors have more than 25 mg, yet they're all still pretty low!

Last but not least we come to Dave's Gourmet. Since launching their Insanity sauce in 1993, this brand has really made a major dent in the market. Now its popularity is almost on par with the big guys.

Almost all of Dave's hot sauce flavors are low in salt, though none are truly zero. The reason you see 0 mg for some varieties is because of that labeling loophole. Regardless, they're a healthy choice.

Dave's Original Insanity is good but if you really want some heat, then go with the Ultimate Insanity sauce.