If you want silverware that won't rust or tarnish, you need it to be made out of 304 stainless steel, which is also known as 18-10.
The 18 references 18% chromium content and the 10 is for 10% nickel. The rest should be iron. No more than 0.8% carbon can be present.
This composition prevents rust (oxidation) because the chromium binds oxygen to the iron molecules, which stabilizes them. The nickel helps prevent corrosion and tarnishing.
Invented over a century ago by engineers at Krupp, this time-tested material has proven to be the best looking and safest for eating.
The problem?
Today, almost all silverware brands manufacture in China. Even high-end American brands like Oneida, Lenox, and Pfaltzgraff.
Made in France silverware is available from Capdeco, Christofle and Chambly… if you're willing to pay $100-$300 per place setting. Buying 6 or 8 place settings will set you back a couple thousand bucks.
As late as the 90's and 00's, you could buy Oneida flatware made in USA. When the Oneida, New York company began manufacturing forks, spoons, and knives in 1899, they were 100% American made. By the 1980's, roughly half were. Oneida ceased all American made silverware production on March 22, 2005. (1)
On that same day, the baton was passed to Sherrill Manufacturing, who bought the manufacturing facility from Oneida.
Sherrill was founded by Gregory Owens and Matthew Roberts, two former employees of Oneida. They just didn't have the heart to see the very last American made flatware go away for good.
It hasn't been smooth sailing since. Paying a premium for American-made is not something everyone is willing to do.
During the Great Recession, they had to file chapter 11 bankruptcy, undergoing a reorganization of debt with their creditors.
Fortunately, they emerged and today, Sherrill Manufacturing continues as the only made in the USA silverware manufacturer. Their products are sold under the brand Liberty Tabletop. (2)
Why should you buy Liberty?
Here are Superfoodly, we all use American-made Fiesta dishes at home. We try to buy domestically-made kitchen gear when possible.
Doing so supports American jobs, particularly in Middle America where we come from. Those great people in the small towns have been hit hardest by the changing economy. They endure a stark economic contrast from the Southern California city we're currently based.
However, that's not the only reason to buy American.
According to the Washington Times:
"The U.S. government regularly stops more poisonous or faulty products at the border that were imported from the PRC [People's Republic of China] than from any other nation."
When researchers from Thomas Jefferson University Hospital bought and tested items from Philadelphia's Chinatown neighborhood, as well as from normal stores elsewhere in the city, their findings were alarming:
"Among all this kitchenware, 25.3 percent of the products from Chinatown were lead-positive and 10 percent of the Chinese goods from outside Chinatown had lead in them."
A respectable toxicologist was quoted in the article as saying:
"Lead in eating utensils can seep into food and beverages, poisoning unsuspecting innocents."
You don't need a Ph.D. to know that, obviously.
What you may not know though are the other possible metal contaminants.
Others that don't get the same scrutiny and media attention as lead and arsenic, yet they still could be dangerous to your health. (3)
Aluminum has no health benefit in humans or animals. Its consumption can only do bad, not good.
Chronic exposure to low levels of aluminum may lead to neurological disorders. It has been proven to cause permanent brain cell damage, even in minuscule amounts. (4)
Many leading medical researchers have proposed that even if it's not the root cause, aluminum may worsen the side effects and progression of dementia, Alzheimer's, and Parkinson's disease. (5) (6)
Recent research has even suggested a potential link to autism. (7)
While the fear of aluminum exposure from soda and food cans is nothing new – that dates back to the 90's – the evidence for copper is relatively new.
As summarized by the 2017 published edition of Biometals in Neurodengerative Diseases (8):
"A number of meta-analyses and systemic reviews point at the breakdown of copper homeostasis as a causative factor of both Mild Cognitive Impairment (MCI) and Alzheimer's diseases…"

The science says that copper appears to cause or contribute to Alzheimer's, by reducing the body's ability to clear away amyloid plaque (toxic protein deposits) in the brain, and actually encourages the formation of such deposits.
Even low levels of copper from food may be enough to cause this. Yet another reason you want forks and knives made from the highest quality stainless steel that's pure. (9)
Those are just two examples of metals perceived to be safe by the public, and therefore, their potential for contaminating consumer products gets little to no attention.
While many fixate on the dangers of lead in utensils, dishes, and cookware, what about cadmium and beryllium?
In short, buying Liberty is about more than just buying silverware made in the USA. There's the health of you and your family to think about.
Choosing a style and set size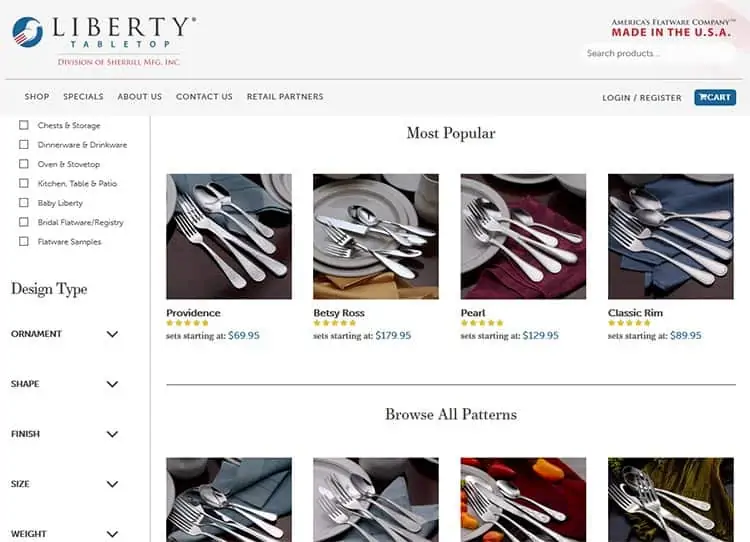 Liberty Tabletop makes 24 different styles of place settings, with the most popular being Classic Rim, Providence, Betsy Ross, and Pearl, according to their website.
If you want something more modern and contemporary looking, your best choices will be:
Satin America
Modern America
Annapolis
Satin Annapolis
Mallory
Betsy Ross
All of these are minimalist designs, without engraving and other elaborate details. The more formal styles are great if your home is old-fashioned and filled with antiques. Here at the beach in a modern glass house, Satin America is the best Liberty silverware style.
We ordered the 65 piece set, which is their largest. It comes with 12 place settings, each consisting of:
Dinner fork
Salad/dessert fork
Place spoon
Teaspoon
In addition to the place settings, there's one for each of the following:
Cold meat fork
Serving spoon
Pierced serving spoon
Sugar spoon
Butter knife
As of the time of this review, the retail price for the Satin America 65 piece set was $359.95 on Liberty's website. The 45 piece set was $269.95 and the 20 piece was $129.95, with 8 and 4 place settings, respectively.
Casserole spoons, servalls, ladles, steak knifes, etc. can also be purchased separately.
The look and feel
Shipped from New York state, the set arrived here in Los Angeles just 2 days later, sent USPS Priority Mail.
That's what the 65 piece set look like. Each utensil is individually wrapped in plastic. Not shown is the brown gift wrapping paper, used to cushion them.
These are what's called American-sized pieces. Meaning, they're slightly larger than the silverware sizes of the past.
The larger size is a good thing. On the made in China set these replaced, the tablespoons were too big for soup and cereal, while the teaspoons were too small. The Liberty flatware is just the right size.
The satin characteristic applies to the handles. The surfaces that go in your mouth are still shiny.
This gives you the best of both worlds… handles you won't have to be OCD about cleaning, while the shiny parts make them look nice.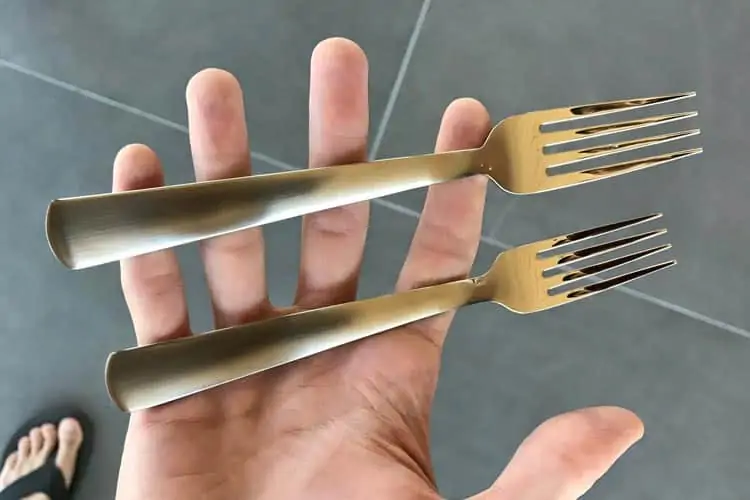 You can see how the transition from matte satin handles to the shiny end is done well, without a hard transition.
The blade of the knife is shiny. Sherrill is the only company who can legally have "USA" stamped on silverware. It's nice seeing that versus the typical China or Vietnam.
Potential drawbacks
For starters, the first thing you will notice with Liberty silverware is that the utensils are not that heavy. For the Satin America set we bought, here's how much each weighs:
Dinner fork – 2.2 oz and 8″ long
Salad fork – 1.6 oz and 7″
Place spoon (tablespoon) – 1.8 oz and 7″
Teaspoon – 1.3 oz and 6″
Dinner knife – 2.7 oz and 9″
Some styles weigh more. Liberty tabletop's Calavera is one of the more unusual designs you will see. It's contemporary art of skulls (calavera means "skull" in Spanish). You can see what they look like on Amazon.
The Calavera knife weighs an ounce more, at 3.9 oz. Calavera forks and spoons actually weigh less.
Some other Liberty styles weigh more, but not by much.
The idea that heavy silverware = expensive? That's more old-school thinking. In your grandmother's day, that was true.
Today, millennials prefer function first. Heavy no longer equates to quality and price with silverware… unless it's made out of literal silver. Obviously that would be expensive!
Stainless steel is not expensive material per se, as it's the craftsmanship and fabrication of it which is where it gets costly.
That same work is required, regardless of how light or heavy a utensil is.
The Modern America Satin is not made heavy just for the sake of being heavy.
If you wanted to cater to that old way of thinking, you can always pick up a weighty set of Oneida flatware that's not made in the United States, for a fraction of Liberty's price. Kohl's, Target, and even Walmart all sell super heavy silverware… and they're cheap.
Liberty silverware doesn't taste like metal, won't bend easily, nor does it rust or tarnish. It checks all the boxes. Heavy weight is the only thing lacking, which some people still prefer for status reasons.
As far as how it holds up long term, it's too early for us to rate that. You can take comfort in the fact that all of Liberty silverware is American made and carries a 25 year warranty. It's dishwasher safe and seems to hold up well to real world usage.
Where to buy Liberty Tabletop
You won't find Liberty silverware for sale at big box stores like Walmart, Costco, or department stores. Sales are primarily through their website, LibertyTabletop.com, as well as Amazon. A few dozen upscale boutique stores throughout the US do carry them, but there isn't a Liberty Tabletop factory store.
We ordered our set direct through their website but in hindsight, we wish we would have checked Amazon first. For starters, our Amazon Visa has excellent rewards and some sets we saw for better pricing.
Of course, prices may be different than any of those mentioned in this review. Compare and verify current pricing on Amazon prior to ordering. To see the current price, here's the link for the Satin America design covered in this review.
Verdict
Posted to our Instagram, this photo – which was coincidentally taken on the 4th of July – pretty much sums it up.
That's healthy plant-based protein pudding. Topped with red goji, white mulberry, and blueberries. In hand is the Liberty tabletop spoon. The yummy stuff is being scooped out of a made in America Fiesta bowl (and here's that style on Amazon).
Good for you and good for America. That's what Liberty Tabletop is about, too.