According to their website, the word JĀSÖN – spelled that way –  means "healer in Greek."
But might it be hurting you instead?
Make no mistake about it. Just because the ingredients are natural, that doesn't mean they're all healthy and proven to be safe.
Jason Natural Products is a popular manufacturer of personal hygiene products, especially oral hygiene, deodorant, hair products, and natural sunscreens.
For over 15 years, they've been owned by the goliath Hain Celestial Group. However the company's independent roots trace back to 1959.
Generally speaking, their products are quite good. We use several ourselves.
However, others we would strongly advise against.
Specifically, certain flavors of Jason toothpaste contain an essential oil which research has demonstrated to have hormone-mimicking effects. Likewise for some types of Jason mouthrinse.
Jason healthy mouth tartar control toothpaste
Pictured above, we love using Jason Powersmile whitening toothpaste everyday. When it's cheaper, sometimes we buy their Sea Fresh instead. Both are fluoride free and SLS free.
However, under no circumstance will we buy the Healthy Mouth paste.
Why?
Because it uses tea tree oil as a primary ingredients.
That's a problem because recent research has demonstrated that tea tree essential oil side effects include being endocrine disruptors. It mimics the action of estrogen in the body.
Just how potent is it?
Very potent!
This phytoestrongen is so potent, that at the Endocrine Society's 100th annual meeting in 2018, a keynote presentation was on how tea tree hygiene products, such as deodorant, are linked to male breast tissue growth.
Known as gynecomastia, tea tree and lavender oil usage was found to correlate with the prevalence of this awful side effect in young boys. (1)
While they called out soaps, lotions, shampoos, and hair styling products specifically, there are plenty of oral hygiene products which contain it.
Unfortunately, many of Jason's products use it. To be clear, the study didn't call out this brand name. However, we are calling it out here, as we see tea tree oil in a large swath of the Jason product line.
One of their most popular toothpastes is the Healthy Mouth Tarter Control flavor. On the front of the box you will see they emphasize the tea tree oil inside.
Flip the box around and you will see the ingredients listed:
Calcium Carbonate, Aqua (Water), Glycerin, Sodium Cocoyl Glutamate, Carrageenan, Aloe Barbadensis Leaf Juice(1), Bambusa Arundinacea Stem Powder, Carum Petroselinum (Parsley) Extract, Citrus Grandis (Grapefruit) Seed Extract, Perilla Ocymoides Seed Extract, Stevia Rebaudiana Leaf/Stem Extract, Cinnamomum Zeylanicum Bark Oil, Eugenia Caryophyllus (Clove) Flower Oil, Melaleuca Alternifolia (Tea Tree) Leaf Oil(1), Melia Azadirachta Seed Oil, Menthol, Silica, Sodium Bicarbonate.
(1)Certified Organic Ingredient
The fact that it's organic and far down on the list is no reason to let your guard down. That's because of how potent tea tree oil is.
Next, we turn to the 2007 study showing this, which was published in The New England Journal of Medicine: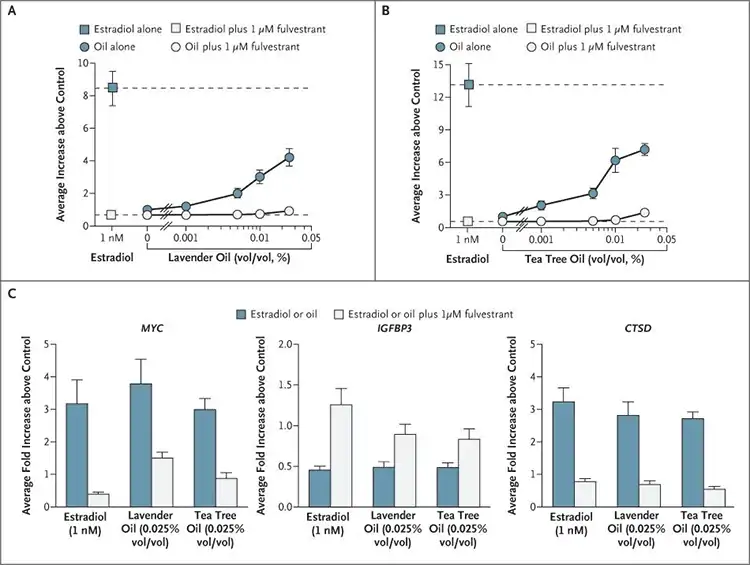 You can see its potency compared to estradiol, which is actual human estrogen, in the study. Keep in mind that bar graph is tea tree oil at a concentration of just 0.025%. That's just 250 parts per million! (2) (3)
So yes, even if it's far down on the toothpaste ingredients, it's still quite concerning.
That's why Jason Healthy Mouth may be a misnomer. Instead, you should buy Jason's other varieties. On Amazon we typically buy the Powersmile Whitening.
Jason healthy mouth tartar control mouthwash
Sure, there are no parabens, sulfates, gluten, petroleum, or phthalates inside.
But similar to phthalates, there is that natural endocrine disruptor; tea tree oil. It's concentrated 2:1 per the front label. On the back label, this is what it lists…
Ingredients: Aqua (Water), Glycerin, Polysorbate 20, Cinnamomum  Zeylanicum Bark Oil, Eugenia Caryophyllus (Clove) Flower Oil, Melaleuca Alternifolia (Tea Tree) Leaf Oil, Melia Azadirachta Seed Oil, Aloe Barbadensis Leaf Juice(1), Calendula Officinalis Flower Extract, Citrus Grandis (Grapefruit) Seed Extract, Echinacea Angustifolia Extract, Hamamelis Virginiana (Witch Hazel) Water, Hydrastis Canadensis (Golden Seal) Extract, Melissa Officinalis Leaf Extract, Perilla Ocymoides Seed Extract, Ascorbic Acid, Calcium Ascorbate, Menthol, Sodium Bicarbonate, Sea Salt, Cinnamal, Eugenol.(1)Certified organic ingredient
Unlike the toothpaste, the tea tree oil is relatively high up on the ingredients list.
Admittedly, the flavor of cinnamon and clove tastes quite good, which makes using it even more dangerous. You actually enjoy swooshing it around in your mouth, given the taste!
Yes, you spit it out after 30 seconds or so. Though remember that study on the 250 PPM. How much do you think is left behind in your mouth? Your mouth, which is a mucous membrane that quickly absorbs what comes in contact with it.
So yes, the Healthy Mouth Tarter Control Cinnamon Clove mouthwash is also a bad choice. Just like the toothpaste.
Instead go with Powersmile Brightening mouthwash or the Sea Fresh. Total Protection Sea Salt mouth rinse isn't a bad choice, either.
Other products
Jason Calming Lavender body wash is firmly in the avoid category. Likewise for the lavender hand soap.
You will find tea tree hand soup from Jason, as well as first aid soothing gel, and a number of other items including Jason deodorant.
Perhaps worst of all, the 100% pure Australian tea tree oil organic for skin. No thanks!