Other names for it are shaddock fruit, Chinese grapefruit, jabong, and its alternate spelling, pummelo.
Some call it the honey pomelo, because unlike its closest relative the grapefruit, it's sweet.
Whatever you want to call it, this monster can be as big as volleyball, have a peel and pith up to an inch thick, and weigh as much as 4 lbs.
Don't let it intimidate you!
Here's how to open and prepare a pomelo in 5 simple steps.
Step 1: Slice off the top
While not required, it's always a good idea to have one flat side on a spherical fruit or vegetable. It helps for stabilizing it on the cutting board.
Using a knife with a 6″ blade or greater, cut off the top of the pomelo. Do it about a half-inch in, because that's how thick the white stuff is (you don't want to eat that).
Step 2: Score the skin
From top to bottom, score the skin.
You want the blade to go about a half-inch deep along the scoring.
Repeat this 6 times, from top to bottom, so your fruit is scored into 6 equal segments.
Step 3: Peel back the pith
The pith is that white part underneath the yellow or green skin of the pomelo. It is edible, but not palatable when raw.
Braised and candied pomelo pith are popular recipes for the Chinese New Year, but that's for another time.
Poke your index finger at the top or bottom, where the scoring cuts intersect.
Peel back the pith with your finger.
The scoring makes it easy. Repeat for all 6 segments.
Here's what you are left with. A peeled pomelo that is noticeably smaller now that it has shed its coat.
Step 4: Separate the segments
Now slice the peeled fruit in half.
From here, you can easily cut out the segments, just as you would with an orange or grapefruit.
Step 5: Remove the membrane
There are a dozen or more segments inside each fruit. Every segment is enveloped in a white membrane.
It's tough, papery, and unpleasant tasting. Though if you want to eat the bitter white part of the pomelo, it's edible and good for you.
As with grapefruit, oranges, lemons and other citrus fruits, the pomelo white parts – including the skin-like membrane inside – contain a flavonoid called naringenin.
Naringenin has been studied for obesity prevention, improving glucose tolerance in diabetics, and boosting the health of the liver, among other potential benefits. (1) (2)
You can peel away the membrane with your fingers.
Sometimes it sticks stubbornly to the flesh. If that's the case, you may need to cut it off.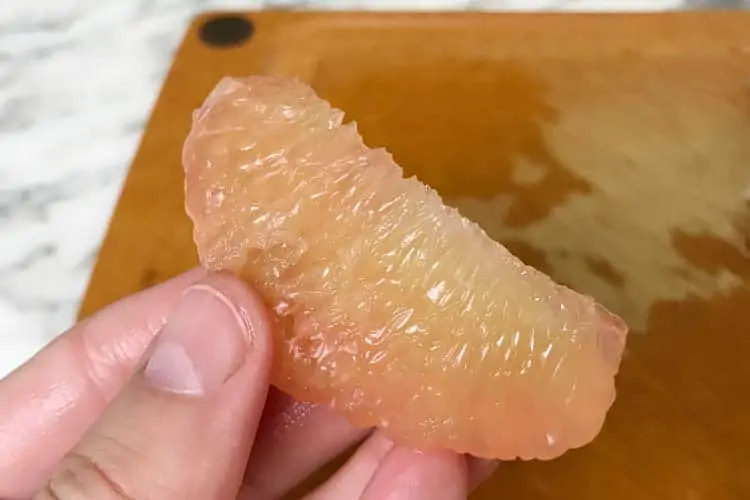 After you have peeled or cut away the leathery membrane skin, this is what each segment will look like.
The best way to describe the taste of a pomelo is that of a grapefruit, without the sour and tartness. Your lips won't pucker because it doesn't have mercaptan. That's the sulfur-containing terpene found in grapefruit that's responsible for its sour taste. The pomelo tastes sweet, but not excessively. Its sugar content – and calorie count – is lower than oranges, tangerines, clementines, etc.
Pomelo health benefits and nutrition facts make it the perfect choice for weight loss, anti-aging, and other goals.
While you can cook and bake with it, the best way to eat pomelo is raw. That's ensures the vitamin C remains intact, as the heat of cooking will destroy it.
How to choose a pomelo
How do you know when a pomelo is ready to eat?
You can't tell if a pomelo is bad based on color. A green pomelo can be ripe but so can a yellow one. They come in different shades of these colors.
The color of their flesh will also vary. There's white, yellow, lime green, and pink pomelo fruit. To make things even more confusing, their outside color doesn't dictate their inside color.
Sometimes, the store selling them won't even be able to tell you what color the pulp is without opening one!
Buying a pomelo can be a gamble when it comes to the color inside, but have no fear – they all are similar tasting and delicious.
The best way to tell if a pomelo is ripe is based on the appearance of its skin.
Avoid those with brown or mushy spots, as those are over ripe. Choose one that is shiny and feels heavy for its size. If two of identical size, choose the one that weighs more; it will be juicier. The largest ones in the pile will definitely be ripe.
You can buy pomelo readily in Asian countries. In North America and Europe they are harder to find. Specialty grocery stores like Whole Foods, Sprouts, and Asian supermarkets will be your best bet on finding them. Regular stores like Kroger, Walmart, and Wegmans will have them on occasion.