With the exception of fettuccine alfredo, this is the Italian classic you probably feel most guilty about eating.
Which makes total sense.
It's high fat, from all that ricotta and mozzarella. There are plenty of carbs from the pasta, with few grams of protein.
For celiacs and those on a GF or wheat-free diet, the numbers look even worse.
The carbs are higher, because most of those pasta brands use rice and corn flour.
Barilla gluten free lasagna noodles are convenient because they're no-boil and oven ready. Being dairy and egg free, they're also vegetarian and vegan friendly.
What's not-so-sexy are their nutrition facts; 190 calories and only 3g of protein per 3 sheet serving.
Barilla's normal wheat-based version is the same number of calories, with more than double the protein; 7g.
You will face this same predicament for most lasagna noodles without gluten for sale at places near you, such as Kroger, Walmart, Publix, Target, Trader Joe's, etc.
DeBoles rice lasagna is made with brown and white flours. Jovial and Tinkyada are 100% brown rice. Le Veneziane is 55% corn, 45% rice. Some brands like Catelli do use quinoa flour, but it's the corn, white and brown rice which still represent the bulk.
Guess what? There are less guilty options out there for lasagna sheets.
In fact, depending on the cheese, you can actually make a healthy vegetable lasagna recipe with them!
What follows are reviews of the best tasting and healthiest GF lasagna noodles you can buy. They're oven ready, no boil, and vegan. Two of the three have high protein. As for the one that doesn't, that's because it's very low carb and calorie.
Reviews
1. Explore Cuisine lasagna
Formally known as Explore Asia pasta, this brand has been making GF spaghetti noodles out of black beans, adzuki beans, soy, and edamame for nearly two decades.
More recently, they've forayed into other shapes of pasta, changing their brand name to reflect the non-Asian ingredients they also use.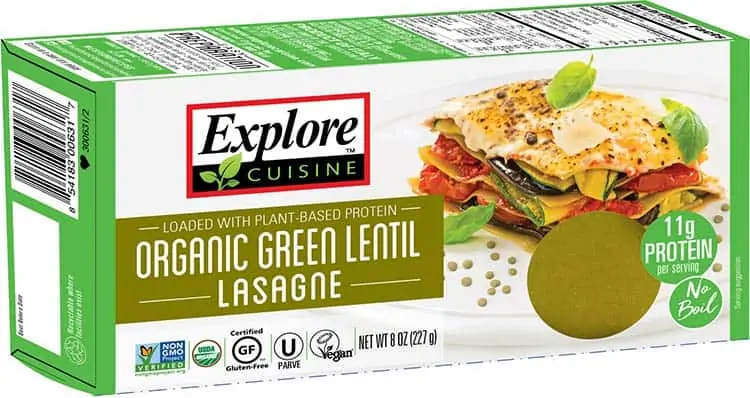 Ingredients like protein-rich organic green lentils, which they're now using to make these delicious lasagna sheets.
Those lentils, along with organic green pea and brown rice flours, create the perfect trio for taste. They have the texture of traditional noodles, without all the carbs.
Unlike wheat, you're getting 60% more protein per calorie; 11g per 190 calorie serving. Best of all, those three ingredients create a plant-based powerhouse of BCAAs and glutamine. It's an amino acid profile that bodybuilders and fitness buffs will definitely appreciate.
Depending on the location, stores like Whole Foods and Sprouts may have them in-stock. Ours do not and we buy them online. Here is the link for them on Amazon.
2. Skinny Pasta lasagna
These are not high protein. Far from it, with only zero grams.
The reason we recommend them is because they are the best lasagna noodle for weight loss and diabetics.
Each 3.5 ounce serving (half a bag) is only 10 calories.
Yes, you read that correctly. It's not a typo.
They're made using konjac root powder. Also known as konjac yam, it's a plant that's native to Japan and has been used in their cuisine for centuries. If you've ever had shirataki noodles, konjac is what they're made from.
These have the best taste among all shirataki brands. Others can taste and smell like fish, but Skinny Pasta have none of that flavor and are odorless. In fact, the noodles have virtually no taste or smell. What they are providing is the chewy texture of real pasta, minus the carbs and calories.
Each serving has 5g of carbs, which is just 2% of an adult's daily value. You won't find a low carb lasagna better than that!
On the downside, Skinny Pasta is not organic. They aren't as satisfying as regular pasta noodles, but they do have a texture which is uncanny in similarity. If you load them up with sauce and other flavors, you may forget the sheets in that tray of lasagna are almost zero calorie.
Everything else about it is good news. Skinny Pasta is non-GMO and sugar free. Dieters on Weight Watchers will appreciate it's only 1 SpartPoints Value if you eat the entire bag (2 servings).
Skinny Pasta is an excellent choice for those with food allergies and those who are sensitive to digestive disturbances from legumes. Since they're gluten free, cholesterol free, dairy free, egg free, nut free, and soy free, everyone can enjoy them.
The lasagna sheets are pre-cooked and ready to use right from the bag. They're shelf-stable at room temperature but once you open the bag, you will need to refrigerate and eat them within 24 hours.
Even here in Los Angeles, we haven't seen Skinny Pasta for sale at grocery stores. You can buy a 6-pack of them on Amazon.
3. Gafell lasagna
The Pasta and Pizza Awards (PAPA) have been running for some 30 years. They're like the Oscars of the Italian food industry. Each year, PAPA host a red carpet gala with black tie attire and the whole nine.
In 2016, they awarded "Best New Product" to these organic GF lasagna noodles, made by Hong Kong based Gafell.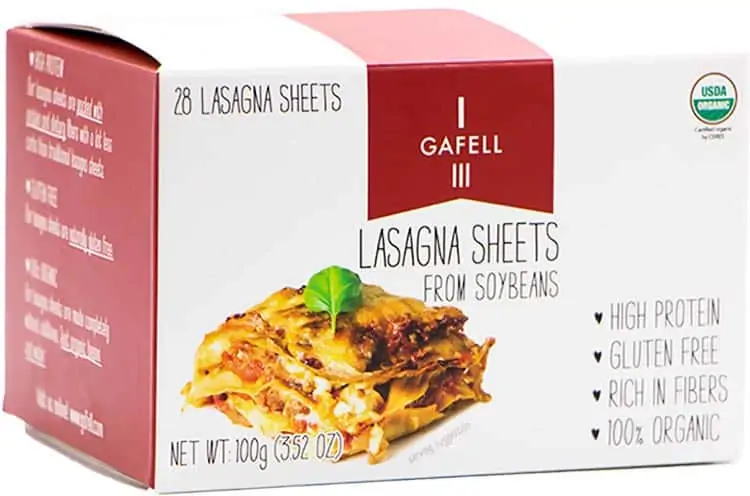 They're made with just 2 ingredients; USDA certified organic yellow soybeans and water. As such, they're gluten free and obviously vegan. The result is the highest protein lasagna, with a whopping 16g per 200 calorie serving (2 oz).
Along with that is 11g of fiber, which is 44% of the daily value.
With only 23g of carbs, they have 75% less than durum wheat semolina.
You can make them without boiling. Just be sure to use lots of sauce (or moisture-rich vegetables) and keep the pan covered for most of the cooking time. With that, they will turn out al dente after 45 minutes or so. If you want them classic and soft, pre-boil for 7 minutes.
Have never seen in-store, though you can get Gafell on Amazon.
The Easiest GF vegan lasagna recipe
Do you want to see food that was professionally shot in a studio? Homemade vegan cheese that requires soaking almonds overnight, followed by making a mess with a fancy food processor that you probably don't even own?
Do you have unlimited time and money?
If so, head over to Minimalist Baker for that type of recipe, it's far from minimalist.
If you want a vegetable lasagna recipe that you can throw together in a few minutes, shove in the oven, and one hour later yum emerges… you're in the right place.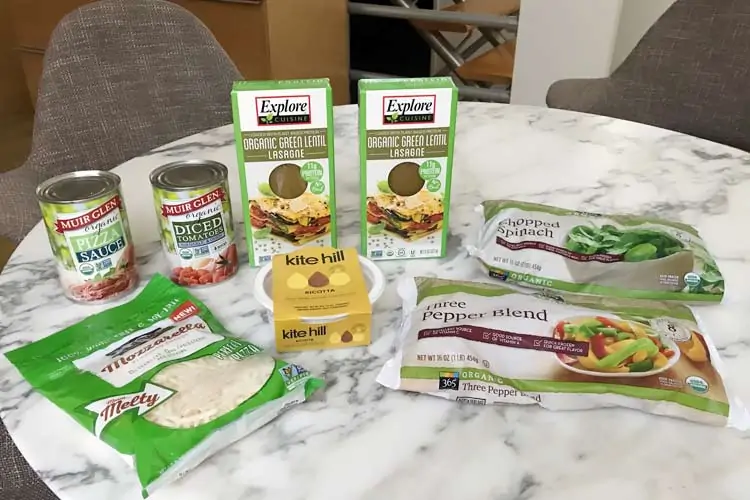 This recipe is so easy that you can even use frozen veggies. No rinsing and chopping necessary!
Don't feel guilty about that, because frozen vegetables have more antioxidants.
You will need a 9×13 baking pan. Tomatoes are very acidic and cause leaching of aluminum. For that reason, we recommend a ceramic or glass Pyrex version.
Ingredients
2 boxes of Explore Cuisine GF lasagna sheets
1 or 2 packages of Kite Hill vegan ricotta cheese
1 bag of Daiya or So Delicious vegan mozzarella shreds
1 small bag of frozen spinach (10 oz)
1 small bag of frozen tri-color bell peppers (10 oz)
1 jar of spaghetti sauce (24 oz) or substitute with 2-3 cans of low sodium diced tomatoes
Garlic granules or powder
Basil
Oregano
Directions
Step 1: Line the bottom of the pan with lots of sauce. You can even add a little water. High moisture is needed to cook no-boil noodles and prevent them from crisping. If desired, add extra spice – you can do this on any or all layers.
Step 2: Layer the lasagna sheets so they slightly overlap.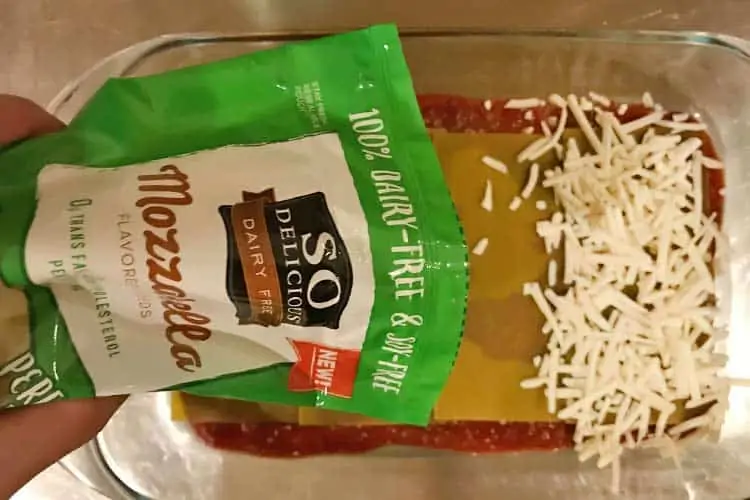 Step 3: For the next layer, add a dairy free cheese of your choice.
Step 4: Top with frozen or fresh veggies of your choice. Spinach and bell peppers were used in this recipe but you can use artichokes, mushrooms, broccoli, or whatever else your heart desires.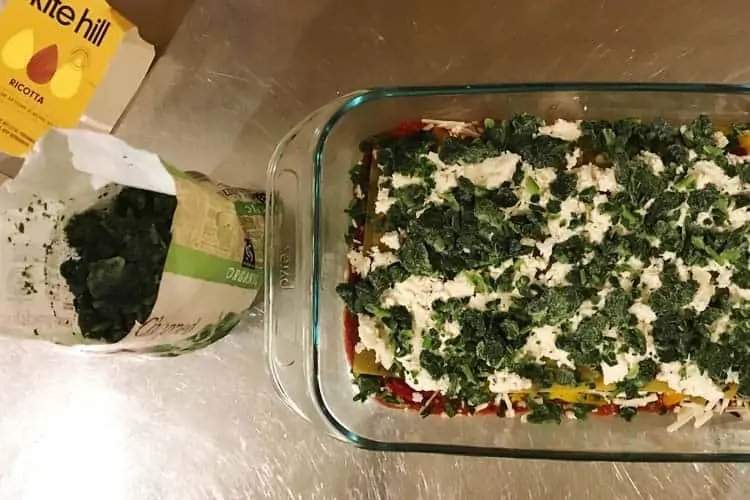 Step 5: Continue layering and alternating between noodles, cheese, sauce, and veggies. Sometimes you may only want cheese separating the noodles, other times it may be veggies and tomato sauce. There's no right or wrong way – it's up to you!
Step 6: After achieving desired thickness, bake in oven at 400°F (205°C) for 45-65 minutes. The more layers, the longer it will take to cook. Keep covered for the first ¾ of the time to prevent drying.20
Step 7: Remove from oven and set on cooling rack for 5 minutes before serving.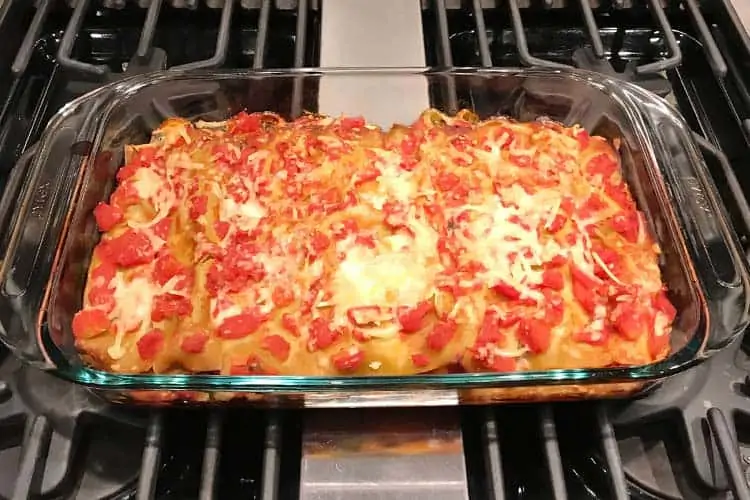 Makes 4 large servings. Calorie count will typically range from 600 to 900 per quarter pan, depending on the cheese, sauce, and how much pasta you use. In this recipe we used about 1.5 boxes.
Total fat can range from 20g per serving all the way up to 50 or higher, if you're using lots of cheese and a sauce with olive oil in it (we used oil-free tomatoes in this).
In short, you can make this as healthy as you want… or not. At least it's cholesterol free, since it's plant-based.