Many probiotics you buy today are a total waste of money, because they contain little (if any) living organisms.
Below we show you how to tell if your probiotics are working or not, regardless of which brand they are. You don't need lab test results to find out.
In fact, you probably already have the supplies in your kitchen to test if they're alive!
Given our positive experience over the years with Garden of Life vitamins and supplements, we were anxious to try a bottle of their Primal Defense Ultimate Ultra (isn't that name a mouthful).
After all, we've had great experiences with their vegan protein blends and figured they could also be trusted for this product.
We chose Primal Defense for our testing because it is the mid-tier in the offerings from Garden of Life.
Their most expensive are the RAW brand, especially their highest potency which is the RAW Ultimate Care 100 billion CFU. They also have the Dr. Formulated Mood Plus, once daily, etc. which are slightly cheaper.
How we tested Garden of Life
…and how you can test it, too!
If you haven't heard, there is actually an old-fashioned way how to test if probiotics are active from the comfort of your own home. Laboratory equipment isn't needed!
Not only is it easy to do, but also cheap and relatively quick – 24 hours should be enough time.
It's called the probiotic milk test. How you do it is quite simple. The supplies are pretty basic.
Step 1: Take 2 equal-size glasses
Glasses, cups, whatever. Just about any two containers of the same size will do the job. It's best if they are the same type of material too, as you never know what types of materials may affect the bacteria that's alive.
Inert materials like glass or ceramic should be perfectly fine, but a metal like copper has antibacterial properties and some types of wood might not be a good idea either.
Step 2: Empty a probiotic capsule into 1 glass
Almost all probiotic supplements use gel capsules which easily pull apart. While holding it above one of the glasses, pull the capsule apart so the powder falls into it.
You won't put any in the 2nd glass.
Step 3: Fill both glasses with a small amount of milk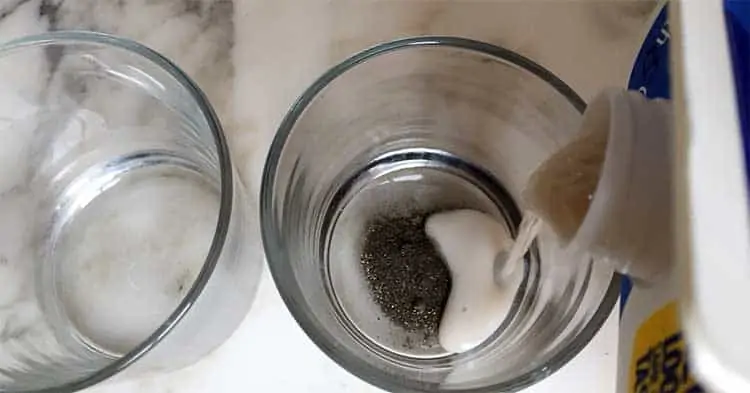 What you will want to do is fill each with a small amount of milk. You don't need much. As you see, how much we put in our glasses is less than 1 inch.
The purpose of the 2nd glass – which has no probiotics in it – is merely for comparative purposes, so you can see what the milk ends up looking like when you don't add anything.
Filling your cup/container up all the way might make it harder to gauge performance, since the probiotic strains will be spread too thin across too large of a volume.
To stir or not stir? We'll discuss that in a moment.
Step 4: Cover and monitor
Cover the cups. In this photo it's aluminum foil, which is what we used in the first test. However we advise using a Saran wrap-like plastic which you can tightly seal around the cup to trap the off-gassing from the bacteria.
Should you place them in the refrigerator? We didn't and logically, it doesn't make sense to.
Think about it… bacteria will grow faster at room temperature than inside your fridge, which is 40 °F or lower. That's the whole reason we refrigerate food, to drastically reduce bacterial growth.
Even if the probiotics are living, it might be hard to tell if you're expecting them to flourish in such a cold environment.
Test #1: foil + non-dairy milk + no stirring
Can you test your probiotics using almond milk, soy milk, or another non-dairy type?
The articles and posts we had read said you could (even though they weren't actually using it themselves). Being told it was okay, we conducted this first test using Good Karma flax milk, as that's what was readily available in the kitchen (since we're vegan, no dairy milk is here).
Zero hour
Starting out, this is how it looked.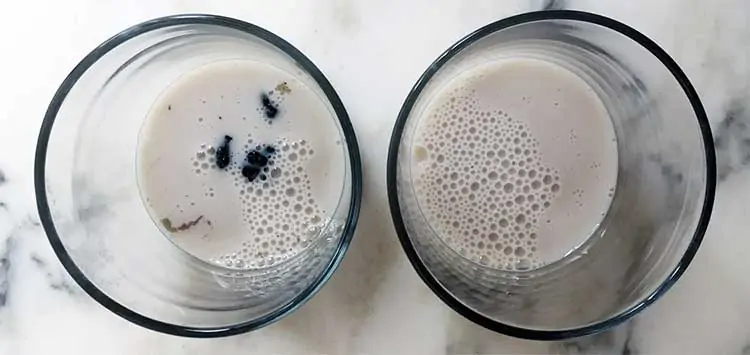 Remember in this test we aren't stirring at all. What you see above is what it looks like immediately after pouring the milk. That's the probiotic powder which has floated to the surface in clumps.
3 hours later
Although not shown, keep in mind that between photos we are keeping both cups covered with foil.
6 hours
9 hours
As you see hour 6 and 9 look almost identical, which suggests the most activity is during the first 6 hours.
12 hours
This was taken in the middle of the night and hence, the shadows from the lights (other pics were with sunlight). It doesn't look a whole lot different from what we saw at hour 6.
24 hours
Only a negligible, slight change overnight.
48 hours
The biggest difference between 1 and 2 days is the brown growth permeating throughout the milk.
The black probiotic blobs have also expanded by another 10-20% in size. We know this isn't caused by just the flax milk, since the control cup on the right has none of that discoloration.
Verdict?
Something definitely happened. The change from hour 0 and 3 we're ignoring, because that could have just been the dust floating up and settling on the surface.
However the difference you see between hours 3 and 6 (or anytime thereafter) is something taking place. Can the Garden of Life be considered probiotics that pass the milk test?
We would say yes they are alive, but we want another testing method to confirm potency… using cow's milk.
Test #2: plastic wrap + dairy milk + stirring
Being vegan with none handy in the kitchen, we bought the smallest bottle of dairy we could find. It sucks how even this tiny bottle costs only about 25% less than a much bigger quart!
Compared to the last testing method, the differences in this one are:
dairy instead of non-dairy milk
thoroughly stirring the probiotic powder once, at the beginning
airtight seal from plastic (instead of foil)
Zero hour
Even though it was stirred for a good 60 seconds, the probiotic powder remained granular. We kept the seal as airtight as possible with the saran wrap, in order to keep the gas produced during fermentation in there.
6 hours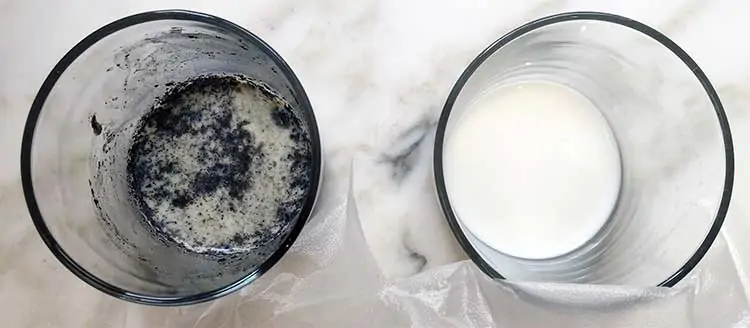 Unlike the non-dairy milk test where 6 hours showed obvious evidence, here it's difficult to gauge whether the Primal Defense Ultimate Ultra is living up to its lofty name.
12 hours
The next photos really surprised us because much of the black powder you saw floating on the surface 6 hours ago is no longer there. We weren't expecting to see that change.
24 hours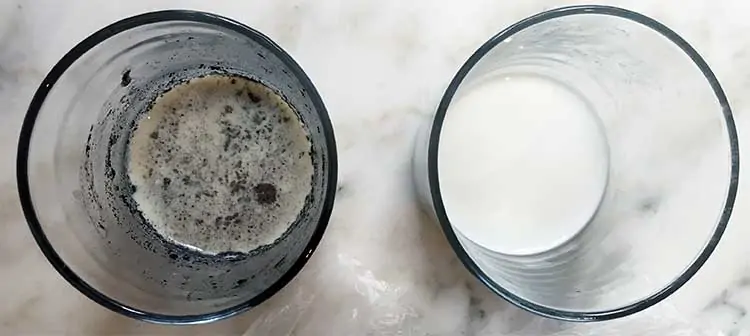 What is floating on the top here is clearly living because it grew versus what was seen 12 hours ago. It's worth noting that the cup was turned 180 degrees in this photo versus the prior set (happened while removing the very sticky plastic wrap). That's why the biggest black blob moved from the top to the bottom.
48 hours
2 days later. Similar to 1 day but even more disgusting, which is how to tell if the probiotics are working. The more nasty they look, the more alive they are.
Verdict?
Two different tests, experimenting with multiple variables. In both scenarios, you can tell the Garden of Life Primal Defense are alive. This is obvious in the cow milk test, where even after 48 hours the placebo glass on the right has zero bacterial growth, despite being at room temperature for 2 full days. It makes you wonder what kind of crap they are adding to milk as preservatives?!
Personal reviews and side effects
Prior to doing these tests we took the Primal Defense for 7 days. The reason we tried taking them first rather than after the tests was because we didn't want what was seen (or not) in the results to have a placebo effect on us.
After all, if we saw all that gross stuff first, it may affect what we think we're experiencing while taking the probiotics.
The bottle's instructions say to start with one pill per day and work your way up to three. Probably doing that a lot faster than we should have, we did x1 capsule for 3 days, x2 for 2 days, and x3 for 2 days.
Results? We definitely felt something! Maybe a little too much.
Tummy felt like it was growling quite a bit and to be blunt, poop was looser.
Being vegans who already eat plenty of fiber, we had no need for more watery poop. Constipation isn't a problem. That's why we discontinued the Garden of Life probiotics and went back to our Enzymedica VeggieGest for problematic gas-causing foods like beans and broccoli.
Our advice for you
If you eat a normal diet of meats and dairy, then the Primal Defense Ultra probiotic appears to be a solid choice based on both of our milk method tests.
Dr. Formulated probiotics from Garden of Life are another option in their product lineup. Those come in several varieties including being geared towards women, men, and kids. Once daily, once daily Ultra.
There is even one called Dr. Formulated Mood+ which – at least as claimed by their bottle – promotes relaxation and emotional well-being. That may just be marketing in our opinion, because studies have suggested probiotics in general can affect your mood, they don't need to be a special type to do so.
Most in the Dr. Formulated line run a few bucks less versus Primal Defense Ultra. In addition to the man/woman/child versions, there are different guaranteed potency versions; 30 billion, 60 billion, and 90 billion CFU.
Then there is the Garden of Life RAW probiotics. Our reviews of their other RAW supplements have been generally positive, so we would expect/hope these to be the same given that they run a couple bucks more than Primal Defense.
The RAW Probiotics Ultimate Care 100 billion guaranteed has not only the highest CFU promise, but also way more strains than the others from Garden of Life; 34 versus the 13 in Primal Defense and the 15 or 16 found in most of the Dr. Formulated kinds.
More may not be better or necessary. If anything, the higher count in RAW is probably done mostly for marketing purposes.
Bottom line: our review of Garden of Life's mid-tier probiotics tested favorably. Whichever type you go with – whether less or more expensive, you probably won't go wrong.
Have decision paralysis? Then order the Primal Defense Ultra on Amazon.
Is it a vegan probiotic?
The Garden of Life probiotics box that the bottle come in list it as being vegetarian. The capsule ingredients are listed as: vegetable capsule (cellulose), magnesium stearate (vegetable source), rice maltodextrin.
Okay that is definitely vegan. But how about what's inside of them?
Primal Defense Supplement Facts
Serving Size: 1 Capsule
Servings Per Container: 90
Amt. Per Serving
% Daily Value*
Iron (from Ionic Plant Based Minerals)
1.8 mg
10%
HSO Probiotic Blend (5 Billion CFU)
Saccharomyces boulardii, Barley Grass, Oat Grass, Lactobacillus plantarum, Bacillus subtilis, Lactobacillus paracasei, Bifidobacterium longum, Lactobacillus brevis, Bifidobacterium bifidum, Bifidobacterium breve, Bifidobacterium lactis, Lactobacillus acidophilus, Lactobacillus salivarius, Lactobacillus rhamnosus, Lactobacillus casei
410 mg
+
Ionic Plant Based Minerals
290 mg
+
*Percent Daily Values (DV) are based on a 2,000 calorie diet
+Daily Value Not Established
This is where it gets a bit complicated. If you go by the strictest definition, Garden of Life probiotics are not vegan and not dairy free.
Lactobacillus is grown in dairy. Whether that's milk, whey, curds, or some other derivative isn't always clear, but you can count on it being fermented in some sort of dairy.
That being said, even though it is initially grown in dairy, the excess is removed during processing.
Furthermore, the probiotics themselves should be eating the remainder and on the Garden of Life box you will see it say that…
Probiotics are cultured in dairy, which is generally consumed during the fermentation process.
Many companies (i.e. Goodbelly) will say they have vegan probiotics and they're not lying per se, it's just that they may be using a different definition than yours. Dietary vegans are fine with it. Ethically vegan may not be, due to the original source it comes from. It appears Garden of Life is respecting both definitions, by only claiming it to be vegetarian.
Being mostly dietary vegans, personally we don't have qualms about using lactobacillus. But we certainly respect if you do.
If you are on a vegan or on a primarily vegetarian diet, there is a much better product for you. We normally use it outside this test. It's a blend of digestive enzymes created specifically for plant-based foods. There's little point in taking a probiotic blend that targets all foods – including dairy and meats – when you don't even eat them. The product we normally use is Enzymedica VeggieGest, which can greatly help with gas and bloating you may have, without the lactobacillus (which is more for digesting animal sources of food).

Setting the vegan/dairy free controversy aside, everyone can agree on the fact that the Primal Defense probiotic formula is gluten free and soy free.
The Garden of Life RAW probiotics Ultimate Care for women, men, kids, etc., as well as their Dr. Formulated lineup, are also gluten free and soy free. They all appear to use vegetarian capsules. But whether they are vegan or not, the same answer applies.