There are three things which really suck about eating pancakes…
1. They are a hassle to make.
Okay admittedly, a pancake recipe does not involve that many ingredients or steps. But some of us don't want to spend our otherwise relaxing Sunday morning fooling around with flours and batter from scratch.
Plus, all of those measuring cups and spoons will mean more dishes to wash!
2. They are terrible for you.
Sure, they're not as bad an iced Cinnabon, but they're similar in the sense that both are loaded with carbs and not much else.
Even if you exercise daily and aren't worried about the empty calories, the lack of protein is bad news for bodybuilders.
Your muscle growth from your intense bench press session yesterday might be placed on hold this morning, due to the inadequate amino acids in your pancake breakfast.
And whoever you are, you always feel at least a bit guilty after indulging in a big plate of 'em.
3. They are an allergy and dietary nightmare.
It just so happens to be that any traditional pancake will include at least one ingredient which is going to be problematic for someone.
Eggs, milk, and butter? Not exactly what you would call dairy free or vegan friendly.
Flour? Since wheat is de facto, you've now excluded Celiacs and those on a gluten free diet.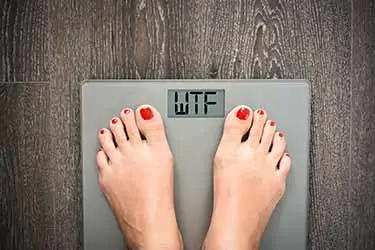 Low carb? Unless you're using a low carb protein pancakes recipe made with special flour, virtually all of the common flours from the supermarket won't exactly be what you would call Atkin's friendly.
Low fat? They may or may not be high fat, but any butter certainly won't be pleasing the oil free crowd.
Low glycemic or diabetic? Even without the maple syrup, the highly refined flour can be a diabetic disaster. When prepared with wheat flour, the glycemic index tests out at 80 for a mere 2.8 ounce serving (1).
Vegetarian? In the US, the definition of vegetarian is wishy-washy, but in many parts of the world such as India, eggs are never considered a vegetarian food. Here, ovo-vegetarians eat eggs but lacto-vegetarians do not.
Despite being delicious, as you see just about everyone has something they hate about this classic American breakfast food. Even without food allergies, no one would ever legitimately claim that these fluffy buttermilk concoctions are good for weight loss or are healthy.
But what if you could get rid of those bad characteristics and make a version which pleases just about everyone?
Now you can, thanks to Wholesome Chow mix. That's right, you don't even need to make it from scratch. It can't get easier than being premade!
But why exactly is Wholesome Chow the best mix to use? To understand, you need to compare it to the competition…
About Time vs. P28 vs. MET-Rx Pancakes
These three are other brands of low carb, high protein pancake mixes. Even these special diet versions still have carbohydrates. It just goes with the territory for this type of food. No carb pancakes would kind of taste like no carb bread… awful.
But they do have far fewer carbs than regular recipes.
You can find these for sale at places like GNC and perhaps even Walmart or Costco, depending on your city.
However if you are a health aficionado, after you read these reviews you will realize they may not be the best fit for your needs.
Review: About Time mix
You can buy it at GNC in two flavors – chocolate chip and cinnamon spice.
Each serving, which is a ½ cup dry, comes in at 290 calories with 21 grams of protein. That's excellent. Another benefit is this mix uses gluten free oat flour.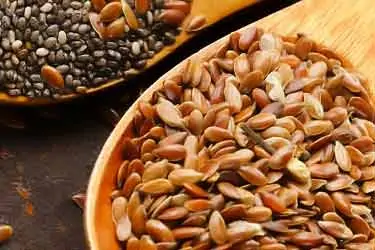 The bad news is that the ingredients list consists of dairy products like whey isolate and buttermilk, so it's not vegan. With a whopping 920 mg of sodium (38% of your DV), 11 grams of sugar, and 25 mg of cholesterol, hopefully you're only eating a single serving at a time.
While not vegan, it is egg free. It appears they might have accomplished that by making use of flax, which is listed in the ingredients (flax meal can mimic what an egg does). If you're a guy, did you know that flax seeds are the highest phytoestrogen food?
To put it in perspective, flax seeds have 265% more phytoestrogen content than soybeans on an equal weight basis. That's why flax is on our list of foods men should avoid or greatly minimize.
On the other hand, post menopausal women might actually benefit by increasing their flax intake.
Review: MET Rx protein pancake mix
This brand seems to be the most popular for bodybuilders and customer ratings of it are quite high.
As of the time of this review, it was rated 9.4 out of 10 on Bodybuilding.com. You can pick it up at Walmart and it's a good price.
The "original buttermilk" taste is naturally and artificially flavored.
MET Rx are not gluten free and in fact, the first 3 things listed on the ingredients label are wheat flour, sugar, and wheat gluten.
The amino acid blend they use consists of whey, milk, soy, dried egg white, and L-glutamine. While not part of that Metamyosyn HPP blend, the label also lists medium chain triglycerides (a good thing for athletes) and flax seeds (a potentially bad thing for men).
The 2 scoop serving size offers you 12 grams of protein for 200 calories. Or go with 3 scoops which contains 18 grams for 300 calories. When using the latter, it's fairly comparable to the About Time protein pancake mix.
That 3 scoop serving, which equals about 4 pancakes, adds up to 860 mg of sodium (36% of DV) and 12 grams of sugar. At 10 grams, the cholesterol content is lower than About Time.
Review: P28 pancake mix
You can't find P28 Foods for sale at many places. The Vitamin Shoppe, Wegmans, and online retailers are your best bet.
What they call The Original High Protein Pancake Dry Mix comes in two flavors; white chocolate and buttermilk buckwheat. The former is made with whole wheat flour, but the latter is a GF ingredient and technically, grain free too. Buckwheat is a milled fruit seed coming from a plant related to rhubarb.
Further down on the ingredient list, both of the P28  flavors include wheat gluten. Therefore neither flavor is gluten free.
Both use a dairy based supplement blend of whey and casein protein. They are egg free, so they could work for lacto vegetarians.
They're sweetened with monk fruit and that's definitely appreciated. It almost certainly costs them more to use that versus stevia, so that tells you they're not the type to cut corners on quality. On that note, buckwheat flour is also expensive and it's listed as the first ingredient on their buttermilk buckwheat flavor.
With 14 grams of protein and 170 calories per serving (1/3 cup dry) you really need to double the quantity, if you want to compare the nutrition facts of MET Rx vs P28 pancakes. When you do that, you get 340 calories and 28 grams of protein.
By doubling the serving though, you're also doubling the bad stuff which means 780 mg of sodium (32% of DV). But since they sweeten with monk fruit, they're low sugar – only 6 grams. Cholesterol would be 10 mg.
This is probably the best protein pancake recipe for bodybuilding as well as diabetics, but only if you are choosing between these three brands. As you see, none are perfect, let alone vegan or dairy free.
All things considered, that brings to the what we consider to be the numero uno choice…
Winner = Wholesome Chow High-Protein Mix
Finally, something that can please everyone!
You see lingonberries and blackberries on ours, but those aren't exactly something you can pickup at your local supermarket. Don't worry, we have some other delicious topping ideas below. They will work for you no matter where you live.
Whole Chow is a company based out a bedroom community of San Luis Obispo. Here in California, this brand has been for sale at select health food stores for a number of years now. Even in Los Angeles and Orange County though, it's hard to find. Not every Whole Foods in SoCal sells it.
Outside of the western states, you will be hard pressed to find it at a brick and mortar grocery store. For example in Ohio, Wholesome Chow only lists a single store in the entire state which carries their brand; Jungle Jim's in Cincinnati.
Luckily it's for sale on Amazon, which makes it easy for everyone to get their hands on it. Why is it the best high protein mix on the market? Well for starters it's…
dairy free
egg free
soy free
peanut free
tree nut free
gluten free
non GMO
USDA certified organic
no preservatives
no refined sugar
Ingredients: organic white rice flour, organic brown rice flour, organic sprouted brown rice protein powder, organic potato starch, organic tapioca starch, sodium bicarbonate, evaporated sea salt, xanthan gum.
They use a dedicated 100% gluten free facility for production. Likewise for the other common food allergens listed above.
Even though it has 0 grams of sugar, keep in mind that any refined flour – whether it be wheat, rice, or another type – will impact your blood sugar and can do so dramatically. Unless it's no carb pancakes (which would mean zero flour) as a diabetic you should probably limit the portion size you eat.
So how do the nutrition facts compare to P28 and the other guys?
As you see from the label, it does have less protein on a per serving basis than P28 and About Time. Though it's comparable in concentration to MET Rx.
That said, Wholesome Chow does have substantially less sodium (320 mg or 13% of DV). That means eating more isn't as big of a concern for those with blood pressure problems and everyone else who just wants a heart healthy diet.
We actually wish it had even less salt, but it's much better versus the 920 mg in the About Time pancake mix. That's for sure!
If you used 2 scoops per person, that provides 24 grams of protein for 460 calories with 640 mg of sodium. That's still around 30% less sodium than About Time and 25% less than MET Rx.
For bodybuilders, the added 100 calories shouldn't be a problem. In fact, when you're bulking up and doing intense arm and leg exercises at the gym several days a week, often times your problem is that you're not consuming enough calories.
For women who are dieting and trying to lose weight, you can always do just 1 or 1.5 servings. But even with 2 full scoops, that's only around 25% of your daily caloric intake (based on a 2,000 calorie diet, men often need more than that).
Even with no added sweetener of any kind, they taste delicious before adding maple syrup or fruit on top. And yes, they are fluffy.
Though if you have a sweet tooth like we do, check out our monk fruit extract reviews for which brand is best to sweeten them with. Given recent mutagenic health concerns about it, using stevia is not our first choice.
As you know, it's not just about how many grams are in a food, but equally as important is the amino acid profile. Clearly, Wholesome Chow put some R&D into formulating an excellent plant based protein mix:
96% correlation with whey amino acid profile
3 grams of BCAAs (leucine, isoleucine, and valine)
2 grams of glutamine and its precursors
You get that with every scoop. So if you're doubling up, that means an impressive 6 grams of BCAAs! Perfect for bodybuilders and those trying to increase muscle mass or tone.
As far as how to make these, even if you are a bumbling buffoon in the kitchen, you should be able to handle these very easy steps for preparation.
High Protein Gluten Free Vegan Pancake Recipe
Instructions for making one generous serving in a snap. With the oil free version it's just 320 calories and 2 grams of fat, yet still packs 17 grams of protein. You can sub the applesauce for oil and get almost sugar free (1 gram) for the same amount of calories. Cholesterol free.
For a post-workout meal, do a double serving which clocks in at 34 grams of protein and 640 calories.
Ingredients
1 scoop of Wholesome Chow mix
1/2 cup of high protein Orgain organic almond milk
1 teaspoon of apple cider vinegar
4 ounce cup of apple sauce for oil free version OR 1/2 tablespoon of coconut oil (if desired, use both)
Directions
Step 1: Preheat skillet on medium heat or set electric griddle to 375° F.
Step 2: Prepare batter by whisking together pancake mix, non-dairy milk, apple cider vinegar, and if making the oil free recipe, include the apple sauce.
Step 3: Grease hot surface with coconut oil. If it provides adequate coverage, only use half a tablespoon. You can always add more later.
Step 4: For each pancake, pour batter in 1/4 cupfuls onto the hot surface. For ideal thickness, aim for a 3″ diameter when pouring (it will spread as it cooks).
Step 5: After the pancakes set (60 to 90 seconds) flip frequently, every 30 to 60 seconds, in order to minimize acrylamide formation. Total cook time should be 3 to 4 minutes.
Optional
Sweeten batter with monk fruit extract.
Drizzle maple syrup on top.
As far as toppings, this is how to make pancakes healthy and nutritious. It's not that these are unhealthy as-is, but right now you're missing antioxidants and other useful phytonutrients. That's what can change these from regular food to superfood.
Frozen blueberries – Fresh degrade quickly due to their respiration (trying to stay alive) and for that reason, frozen blueberries are better for you than fresh according to antioxidant testing. Not only are they healthier, but they will save you money.
Dried mulberries – These intensely sweet berries are surprisingly glycemic friendly. One of the highest natural sources of resveratrol.
Golden berries – Also known as Inca berries, their antioxidant activity tests out as being comparable to blueberries. If you like Sour Patch Kids, you will love these sweet and sour tasting high-fiber berries.
Pumpkin seeds – These are one of the richest sources of L-arginine, an amino acid which plays a crucial role in your body's production of nitric oxide. Not only does L-arginine have benefits for bodybuilders, but a double-blind and placebo controlled study found suggested it might offer "significant improvement" for men with ED (2). The majority of pumpkin seeds, including those which are USDA certified organic, come from China. That's why we prefer these Austrian pumpkin seeds.
As far as the plant-based milk, So Delicious or Almond Dream will suffice for this simple pancake recipe. But there's one brand we like a lot better.
Especially if you're an athlete or fitness enthusiast.
Try the unsweetened vanilla Orgain brand of organic almond milk. Each 1 cup serving (8 ounces) packs 10 grams of protein and is only 60 calories.
Oh yeah, and don't forget the starring ingredient… pick up a bag of Wholesome Chow on Amazon.