Are Ricola cough drops all natural?
Yes. Ricola Ltd. of Switzerland was founded in 1930 and launched their famous 13 herb throat lozenge in 1940. While the current recipe only contains 10 herbs, it's still made with all-natural ingredients.
The exception are the sugar-free Ricola cough drops. Those have one unnatural ingredient; aspartame.
The active ingredient in all varieties is menthol, which comes from mint essential oils. It acts as a cough suppressant and oral anesthetic.
The herbs used in Ricola cough drops are:
Elder (Sambucus nigra)
Horehound (Marrubium vulgare)
Hyssop (Hyssopus officinalis)
Lemon balm (Melissa officinalis)
Linden flowers (Tilia platyphyllos)
Mallow (Malva silvestris)
Peppermint (Mentha × piperita)
Sage (Salvia officinalis)
Thyme (Thymus vulgaris)
Wild thyme (Thymus serpyllum)
The ingredients in Ricola cough drops have changed from 1940. From the original 13 herbs, 7 were removed and 4 new ones were added.
The herbs removed were:
Burnet (Pimpinella saxifraga)
Cowslip (Primula veris)
Lady's Mantle (Alchemilla vulgaris)
Marsh Mallow (Althaea officinalis)
Plantain (Plantago lanceolata)
Speedwell, aka Veronica (Veronica officinalis)
Yarrow (Achillea millefolium)
The herbs added to Ricola that are different from the original recipe are hyssop, lemon balm, linden flowers, and wild thyme.
Both the old and new Ricola herbal mixtures contain several plants which have a fair amount of scientific research to suggest they can help sore throats and temporarily relieve some of the associated side effects from a cough, cold, or flu.
While they are still natural, Ricola does contain some ingredients which are not ideal; caramel color, natural flavor, starch syrup, and sugar.
The "natural flavor" is ambiguous and could mean any number of things.
Despite the sugar, starch, and added coloring, Ricola are still good for you and better than Halls, if you want something more natural.
The Ricola plain flavor without honey is vegan. However the strictest vegans may not want it, because there's a chance it's traditionally made sugar, which involves using charred bones.
Both the regular and sugar-free Ricola are gluten free and food allergy friendly.
Ricola is not safe while pregnant or breastfeeding. Some of the herbs carry pregnancy risks. Hyssop and horehound might cause the uterus to contract or start menstruation. (1)
If you need something ASAP that you can pick up at CVS, Walgreens, Walmart or Costco, Ricola remain an excellent choice for non-pregnant adults. However if you plan ahead of time, there are better options.
You may even be able to get them within a day or two, when Amazon Prime shipping is available.
Consider stocking one or more of these brands, so you have them handy when needed. If you're already sick, order some today. That way you can switch from your Ricola or Halls when they arrive.
1. Zarbee's Naturals 96% Honey Cough Soothers
If you want a natural alternative to cough drops like Halls that use menthol and artificial sweeteners, Zarbee's is a great option.
There is no sugar from cane or beet. Instead, it's made with 96% honey.
Each cough drop is 10 calories and contains 25 mg of vitamin C (42% of daily value), 2 mg of zinc (13%), and 25 mg of echinacea extract. In addition to the honey, there's natural lemon and lime flavoring.
There are versions with 99% honey but they don't contain the immune supporting vitamin C, echinacea, and zinc. They only have honey, menthol, and peppermint. That's why the version with 96% honey is better.
Where to buy
Pediatrician Dr. Zak Zarbock originally started Zarbee's to make chemical-free cough relief for his kids. Today it's owned by Johnson & Johnson. They bought Zarbee's in 2018.
That means they're sold practically everywhere. Many drug and grocery stores, and not just the Whole Foods type.
Here is the link for them on Amazon.
2. Zand HerbaLozenge Sweet Elderberry Zinc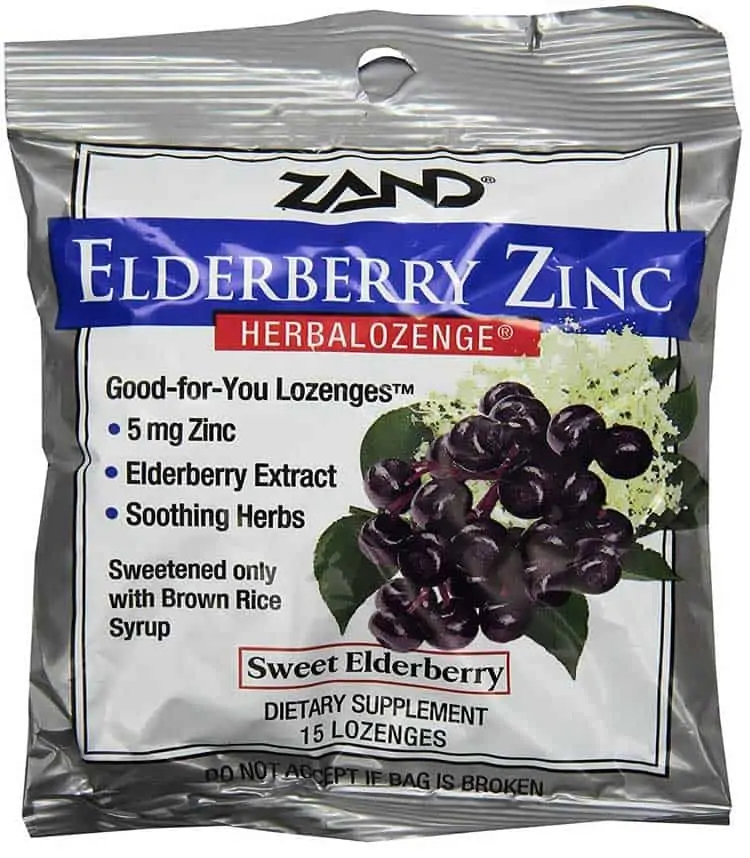 As with Ricola and Zarbee's, the brand Zand has wide distribution and is easy to find for sale. They have been at it for over 25 years, utilizing the knowledge of American, European, and traditional Chinese medicine (TCM). These benefits are why Zand ranks among the best over-the-counter herbal medicines for sore throat and cough.
Zand's elderberry zinc drops have no cane sugar, no sucrose, and no artificial sweeteners.
Each Zand drop contains 5 mg of zinc, along with black elderberry extract, hibiscus flower, orange peel, lemon peel, rose hips, lemon grass herb, perilla leaf, and schizonepeta herb.
There are several clinical studies on elderberry which support the theory that it may help respiratory viral infections, like the common cold and influenza.
Cytokines are signaling molecules in your body, used by your immune system to direct resources to a target/task… like to fight an infection.
In a clinical trial, elderberry extract increased TNF-alpha cytokines by 200% to 4,500%. The amount of increase varied by form, with the chart here showing how each measured. (2)
Hibiscus flowers, which are also used in Zand cough drops, are a very potent source of antioxidants. In fact, hibiscus is the highest antioxidant tea, beating matcha by a multiple of double, or greater.
Where to buy
Zand cough drops are sold at many locations of CVS, Whole Foods, Walgreens, Kroger, Meijer, Walmart, and other major chains. You can get them fast through Amazon.
3. Wedderspoon Organic Manuka Honey Drops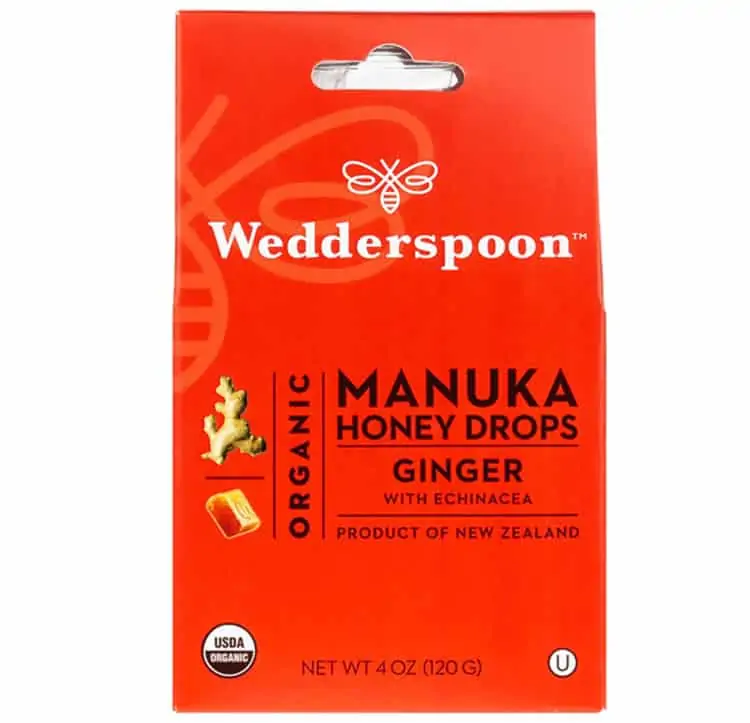 If you want a drop made with truly raw and unpasteurized Manuka honey, you are unlikely to find one for sale at any brick 'n mortar store.
However, you can find them online.
Wedderspooon uses manuka honey sourced from New Zealand's north and south islands. It bears the FernMark license, which is third-party verification of Manuka authenticity and quality.
Their drops are also non-GMO Project verified.
The active ingredients are Manuka honey, ground ginger, and echinacea. One drawback is that there's added sugar. It's from organic sugar cane and organic brown rice syrup.
If you want something to sooth your sore throat, along with some potentially helpful natural herbs, then give these a try. Just don't use too many at once, because there is 25 calories and 4g of sugar per drop.
Where to buy
On Amazon you can buy the ginger variety, as well as their other two flavors, eucalyptus and lemon.
4. doTERRA On Guard Protecting Throat Drops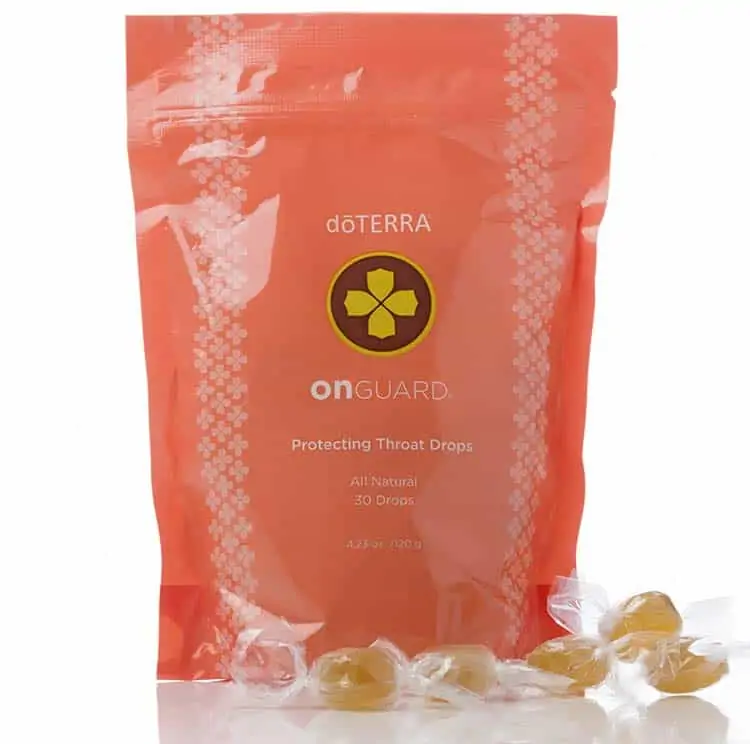 Although not proven per the medical standards of the west, there is robust scientific evidence – particularly in the lab – to support the premise that certain essential oils have antibacterial, antiviral, antifungal, and immunomodulating activity.
Doterra is best known for their pure essential oils and now, they make lozenges which use them.
Doterra cough drops use their popular On Guard essential oil blend. It's made with wild orange peel, clove bud, cinnamon leaf/bark, eucalyptus leaf, rosemary leaf/flower, and myrrh oils.
There is added sugar; 3g per drop. That equates to 15 calories. It comes from organic cane and organic brown rice syrup. There are no artificial flavors or unnatural colors being added.
While the manufacturer's health claims are understandably vague, they say the primary benefits are soothing dry and scratchy throats and the drops "help strengthen the body's defenses."
Where to buy
Doterra is sold exclusively through distributors, like the Mary Kay business model. You can buy their essential oils and On Guard throat drops on Amazon, here's the link.
5. Young Living Thieves Hard Lozenges and Drops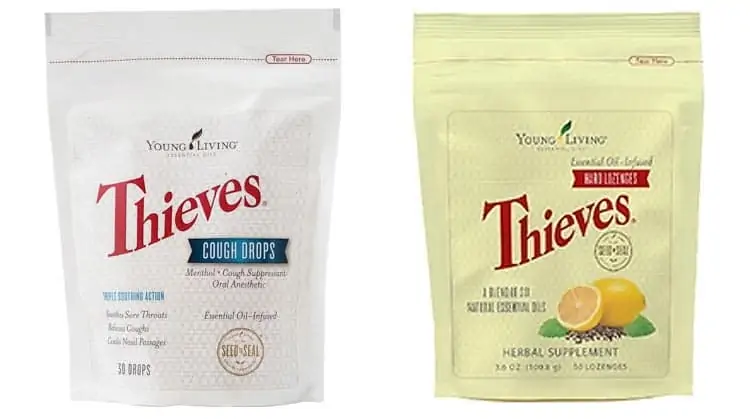 It would be unfair to highlight Doterra's lozenges without reviewing Young Living. Archrivals of course, and equally divided fan bases among them.
Fortunately, both Doterra and Young Living cough drops are highly-rated. So go with whoever you fancy.
In the case of Thieves, they come in two versions; hard lozenges and cough drops.
What's the difference?
Both the Thieves cough drops and lozenges contain the famous Thieves blend of essential oils; lemon peel, peppermint, clove bud, cinnamon bark, eucalyptus radiata leaf, and rosemary. The difference is that the drops each contain 8 mg of menthol and the lozenges do not.
The menthol helps to suppress coughing, soothes the throat, and cools irritated nasal passages which are common during the cold and flu.
Both the drops and hard lozenges are sweetened with stevia and isomalt, which is a sugar alcohol.
The nutrition facts label lists 15 calories per lozenge, which must come from the isomalt. Keep in mind though that all of the calories in sugar alcohols are not absorbed by the human digestive tract.
Young Living Thieves drops beat Halls and Ricola sugar free. Those use artificial sweeteners like aspartame. Young Living cough drops are without sugar or artificial sweeteners, or at least not fully absorbable and glycemic-spiking sources like sucrose, fructose and glucose.
Where to buy
Both Doterra and Young Living have similar models; they're sold through distributors, not through stores. You can buy Thieves lozenges on Amazon. If you have a cough, try their drops.


These statements have not been evaluated by the Food and Drug Administration. This product is not intended to diagnose, treat, cure, or prevent any disease.